No Sophomoric Behavior on Galactic Conquest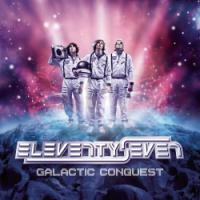 Artist: Eleventyseven
Title: Galactic Conquest
Label: Flicker Records
The punk pop genre has been known, let's face it, to lend itself to sophomoric behavior, repetitive beats, and a notable lack of imagination. But Eleventyseven's sophomore release, Galactic Conquest, is decidedly un-sophomoric. Yes, it's tongue-in-cheek, humor-injected fun, but don't think that means it is without thoughtful composition and wise commentary. Their ravenous appetite for adventurous sound led them to explore even further into electronic rock territory, and they also brought on Ian Eskelin to produce, which only increased both the humor and adventure quotients.
After a brief rocket sequence intro, slammin' techno rock beats open the energetic "Love in Your Arms," a highly danceable track of truth and encouragement. It's a great upbeat start and leads well into the madly melodic chaser, "Happiness," a humor-injected, hook-happy look at the supremacy of God's love, sure to hit radio hard. Lead singer/guitarist Matt Langston's vocals have a delightful impish quality, making him perfectly suited for his genre and these tongue-in-cheek songs in particular.
Charging horns briefly open the frenetic "Fight to Save Your Life," the production shining through the tasty guitar tidbits on this pep song gone techno-mad. Yes, it's funny, but look closer and you'll hear a greater wisdom in its call to think for yourself. Very nicely done. As is the absolutely irresistible "How It Feels (to Be with You)," the sweetest of synthesizers working overtime to snatch you up outta your chair and get you up on happy feet. If you can resist this hooky track, you're more grownup than me. (Don't get excited, it's not the high praise it might seem).
Luscious strings support the worshipful "It's Beautiful," with its big orchestral movements. Things take an all punk turn from here on out as the clever techno-punk track "Retail Value" challenges our cultural ignorance, and "Feel OK" continues the slammin' trend. "12 Step Programs" blows by in a blur of edgy guitar riffs and splashy drums, while the unadulterated fun of "Conan" will lay you out with its humor and thick rope-like bass chords. Spacey techno dance track "Galaxies Collide" features throbbing bass and bouncy synth work, though little heart. It's a weakness of the genre, to my mind; it's difficult to evoke much emotion from soulless technology. That said, Eleventyseven wrings as much out of it as anyone else in the mix, often a bit more. Galactic Conquest goes a long way in bringing soul to the genre.



© 2007 CMCentral.com. All rights reserved. Used with permission.



Visit CMCentral.com now and join the single largest online community of Christian music fans on the internet. CMCentral features daily music news, exclusive interviews, album reviews, weekly devotions and feature articles written by some of your favorite Christian artists, and much more. CMCentral is also the home of the most popular Forum for Christian music fans that you'll find anywhere on the Internet. Come see what all the buzz is about!