Nordeman Continues Her Way With Words on "Brave"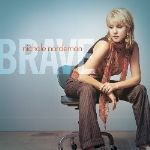 Artist:  Nichole Nordeman
Title:  "Brave"
Label:  Sparrow
From her debut's thought-provoking title track "Wide Eyed" to the intricate poetry of "Every Season" on "This Mystery" to her "Woven & Spun" smash hit "Holy," Nichole Nordeman has always had a way with words. And her fourth studio album, "Brave," is no exception as the wordsmith showcases some of her most universal yet introspective reflections on the arduous journey from fear to faith.
But aside from the classy songwriting that's become her musical calling card, there's something decidedly different this time around. Instead of the piano-dominated strains that have served as her songs' primary accompaniment, layers and layers of previously unexplored instrumentation make the journey all the sweeter on "Brave," as Nichole worked alongside producer Jay Joyce (Patty Griffin, The Wallflowers) for the first time in her career.
Joyce's influence is immediately apparent on "Brave," the album's first track (and the song you're most likely to keep hitting the repeat button for). Its warm tones and multi-dimensional musical bed wouldn't seem out of place on the latest from Griffin or even Jonatha Brooke, the chorus and bridge are pure Nichole. It's the kind of ear candy that pop music fans can't resist – but fortified with the lyrical substance lacking from the likes of say, Ashlee Simpson or Avril Lavigne.
But with all these added musical flourishes on the infectious sounds of "Real to Me," the contemplative "Lay it Down" or even the trippy beats of her cover of Bob Dylan's "Gotta Serve Somebody," one crucial thing remains the same: It's what she's saying that clearly takes precedence. And while that takes an investment on the part of the listener, the rewards are many.

© 2005 CCM Magazine.  All rights reserved.  Used with permission.  Click here to subscribe.