Norma Jean Reinvents on Aggressive "Redeemer"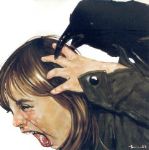 Artist:  Norma Jean
Title:  "Redeemer"
Label:  Solid State
This band never ceases to rise to the challenges placed before it. And, with "Redeemer," it seems Norma Jean will even invent its own challenge in the absence of any external obstacles.
With seemingly nothing to prove, the band challenges itself to not release anything remotely sounding like a sequel to either of its last two albums ("Bless The Martyr", "Kiss the Child" and "O' God, The Aftermath"). The result? A tight, swarming aggressive album even more technical and straight-up metal than anything these guys have done before.
While the core identity of chaotic madness can still be felt, there's less frenetic dissonance and those sometimes sloppy, but full-of-attitude, counterpoints in the guitars and more spot-on mean, raging and tough guy riffing. There's even some grooving in "The End of All Things Will Be Televised." But in most songs, such as "The Longest Lasting Statement," axemen Scottie Henry and Chris Day support front man Cory Brandan's wails and screams with solid setups and breakdowns.
Lyrically, Norma Jean has carved out a distinctly Christian album. There's apocalyptic anger in "The End of All Things ..." with its declarations that "Tonight the South is on fire," sung like a modern day John the Revelator. "A Small Spark, A Great Forest," like its James 3:5 inspired song title implies, is a zealous diatribe about the destructive nature of words, with instructions of "fight fair" and a plea at the end of "Let there be grace." The song "Amnesty Please" is a sweet reminder of forgiveness, with the interesting plea to "Sign this contract, so we can sing forever."
Without a contrived word in the mix, the band has easily crafted its most blunt album yet – both lyrically and musically. While this may unsettle a fan or two for a few seconds, deeper and repeated listens should bring extreme and lasting satisfaction as well as bring a big grin to all those who heard the band play the side stage at Ozzfest this past summer.


© 2006 CCM Magazine.  All rights reserved.  Used with permission.   Click here to subscribe.



Take a few minutes to watch Norma Jean music videos at Godtube.com!