"Octane 1.0" - Music Review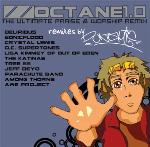 Artist:   Dunamis
Label:  Worship Extreme

When will DJs in Christian music realize that a remix is much more than adding a few ghetto "get-up-on-your-feet" hollas to the musical mix? Obviously Dunamis didn't get this particular memo. On their 'gosh-this-sounds-like-the-early-90s' sound, Dove Award winner Glen Wagner, Alan Shacklock (Newsboys, The Who and Sir Andrew Lloyd Webber) and DJ-Kids Meal, collectively known as Dunamis, attempt to funk up some of today's praise & worship standards.

But instead of achieving this goal, songs like "In the Secret" and "I Could Sing of Your Love Forever" undergo a scary evolutionary process of poorly placed samples, monotonous vocal loops and turntable squeals that I could have sworn left the hip-hop scene with Run DMC. It's sad when the songs actually sound better "pre-mixed." "Octane" features remixed versions of songs by O.C. Supertones, Crystal Lewis, Among Thorns and more.

Although Octane intrigued my ear for '1.0' seconds, with a smidgen of techno delight in "People Get Ready," it's hardly worth suffering through the other 51 minutes of wannabe grooves.

Used by permission.  CCM Magazine © 2003  Click here to subscribe.