Olivia the Band's Self-titled Disc a Tightly Played Debut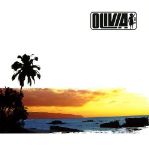 Artist:  Olivia the Band
Title:  Olivia the Band
Label:  Essential
Hailing from sunny Hawaii, Olivia the Band marks Essential Records' first dip into punk rock or, more specifically, its tamer cousin pop/punk. Once known as Engine No. 9, these surfer dudes released the independent "For the Kids" in 2002 under the name Olivia. Because pop princess Olivia Newton-John apparently owns the trademark to most things "Olivia" — according to the band's Web site — Olivia had to add "the Band" to its name for its first major-label release. And you thought being a rock & roller was easy!
On to the music: On the plus side, "Olivia the Band" is tightly played, upbeat and raw — as you'd expect from a pop/punk band. The twin guitars of Gabe Watts and Justin Abilla rip, crunch and riff through the album's 12 tracks with focused fury.
The finest example is the heavy, rollicking "39," the title of which is a reference to the lashes Christ received prior to His crucifixion. Here, the guitar attack combines power chords, interlocking lines and the occasional scrape-the-pick-along-the-strings trick for that punk-meets-arena rock vibe. It's nothing that hasn't been done before, but it is done well.
What's missing from "Olivia the Band" is that intangible sense of "attitude" that's a "must" for an album that claims punk rock roots. Some bands — Relient K and Ghoti Hook, for example — find that quality through humor and wordplay. Others — think Ace Troubleshooter or MxPx — just seem to ooze punk authenticity. But this debut plays it safe, a quality that's emphasized by lyrics that lean toward basic statements rather than invoking images and metaphors. (The final track, "Missing," finds singer Reed Cromwell harmonizing, "You're missing the fun/missing the run/missing it all/you're missing me."  A line like that won't make a dent on unchurched punk rock kids.)
Olivia the Band is halfway there. Add lyrics that stretch the imagination, and they'll pull away from the pack.

© 2005 CCM Magazine.  All rights reserved.  Used with permission.  Click here to subscribe.