Omnipresence and Other Topics Tackled on DecembeRadio Debut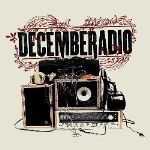 Artist:  DecembeRadio
Title:  "DecembeRadio"
Label:  Slanted Records
Sometimes life is frustrating. And since as Christians, we realize that all life comes from God, it's easy to blame Him for our frustrations. As such, there are times when we just want to get away from God and try to do things our own way. However, besides the detrimental effects of being apart from God, we can't ever hide from Him. In fact, the psalmist David devoted an entire psalm (139) to speak about this truth. Since God knows our hearts and can see all our actions, there's no distance we can travel or cloak we can hide beneath that will allow us to sneak one past Him.
Creating quite a buzz in the industry, new rock outfit DecembeRadio debuts with a self-titled release on Slanted Records that covers the omnipresence of God as well as other topics. Kicking off with the sonically charged "Can't Hide," the album reminds listeners clearly that God is keeping track of our actions, that even deeds performed in the darkness of night will be exposed sooner or later. This message returns on later tracks such as "Table" which states that all that we are will be laid out before us on Judgment Day, and we'll be unable to deny our true nature. Other tracks discuss our sinful nature and one of the key roots ("Greed"), the importance of accountability ("Razor") and living the life we've been called to according to Christ's example ("Dangerous", "Least of These").
Accompanying this hard-hitting message is a powerful soundtrack that incorporates gritty southern rock stylings. DecembeRadio takes that foundation and builds on it, adding some grunge elements as well as come captivating vocal work. Tracks like "Love Found Me (Love's Got a Hold on Me)" and "Live and Breathe" feature a freewheeling atmosphere that includes a number of compelling guitar solos, thick riffs and a loose production hand that allows the raw nature of the songs to shine through. On the softer side, the album includes tracks like the ballad "Alright My Friend"" and "Drifter," a softer song that features producer Scotty Wilbanks (Third Day) on keys and Peter Stroud (Sheryl Crow) on slide guitar.
All in all, this album proves to be a whole lot of fun as listeners absorb the enthusiasm and energy of the band. DecembeRadio is certainly an impressive band with plenty to offer, including a bright future. Rock fans shouldn't pass this one by.


© 2006 CMCentral.com.  All rights reserved.  Used with permission. 

Visit CMCentral.com now and join the single largest online community of Christian music fans on the internet.  CMCentral features  daily music news, exclusive interviews, album reviews, weekly devotions and feature articles written by some of your favorite Christian artists, and much more.  CMCentral is also the home of the most popular Forum for Christian music fans that you'll find anywhere on the Internet.  Come see what all the buzz is about!