On Satisfied, DecembeRadio Rocks with Self-Assurance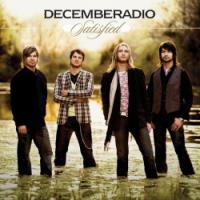 Artist: DecembeRadio
Title: Satisfied
Label: Slanted Records
The live vibe comes to life …
Very rarely does any band (faith-based or otherwise) connect in concert to the scalding degrees of southern-streaked rock & rollers DecembeRadio. Taking cues from The Black Crowes, plus anyone with a rebellious streak from the 1970s, the group unloads with a gargantuan wall of guitars and the ferocious howls of front man Josh Reedy.
Not only does that sound translate to the studio on the group's sophomore CD, Satisfied, but the band comes across with more self-assurance and blissfully controlled chaos than on its already exceptional GRAMMY-nominated/Dove Award-winning self-titled debut.
Put on a seat belt before the blazing guitar grinds of "Better Man" blast out of the stereo, and expect the old-school intensity to continue throughout the half soulful/half swampy "Satisfy Me." Even with the blistering amplifier assault, DecembeRadio still has plenty to say, and the stacked sounds are never at the expense of a meaningful gospel message. The mid-tempo southern blues howler "Believer" talks about growing up in a Christian household and making the commitment to maintain those beliefs into adulthood, while the string-enhanced ballad "Look for Me" is a call for non-believers who are tired of trying to fill the void with worldliness to, instead, embrace the Lord.
From a purely musical perspective, there are still plenty of other concert classics in the making, from the gospel-infused retro rocker "Powerful Thing" to the organ-drenched sing-a-long "For Your Glory" and the no holds barred blare of "Gasoline." Amidst all the rumblings and fist pumping power, DecembeRadio effortlessly blends a simultaneous throwback to yesterday, an unconventional taste of tomorrow and a private concert experience during each and every personal playback.
© 2008 CMCentral.com. All rights reserved. Used with permission.




Visit CMCentral.com now and join the single largest online community of Christian music fans on the internet. CMCentral features daily music news, exclusive interviews, album reviews, weekly devotions and feature articles written by some of your favorite Christian artists, and much more. CMCentral is also the home of the most popular Forum for Christian music fans that you'll find anywhere on the Internet. Come see what all the buzz is about!

**This review first published on September 4, 2008.
Watch DecembeRadio music videos at Godtube.com today!