On the Way to the Top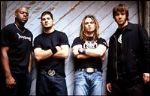 You know the feeling. You gaze at your own reflection for a split second too long, and the image starts to become unnervingly unfamiliar. You notice details of your physical appearance you had never seen before, and the questions start: "Who am I? How did I get here? Why am I here at all?"
Rob Beckley has asked those questions. He's had those moments when he wondered where his life, his relationships and his career were going. And out of those moments, he mustered his talents, creativity and calling and redirected those questions into song.
"Anytime I say the word 'you' in a song, it's basically me talking to me," says the lead singer and lyricist for Pillar. "Some people might take it as me talking to people, telling them they need to look at themselves in the mirror. But the song 'Staring Back' is actually me staring in the mirror, seeing a different person than who I really am."
Another question in the life of Pillar — which also includes guitarist Noah Henson, bassist Michael "Kalel" Wittig and drummer Lester Estelle — comes in the form of the title of its latest project, "Where Do We Go From Here." It's a valid question in the minds of the band and its fans, considering the extreme ups and downs the group has faced during the past couple years.
That rollercoaster ride began with the 2002 release of the band's landmark record, "Fireproof," and the hit single by the same name. "Fireproof" was the Kansas-born, now Oklahoma-based hard rock outfit's second effort for Flicker Records. When both the album and single started gaining momentum, the mainstream rock world took notice; and, truth be told, the band felt ready for that to happen.
"We did everything we possibly could to prepare for that album coming out," says Kalel, whose nickname rings in honor of Superman's Kryptonian birth name. "We had a good feeling about it, and we knew 'Fireproof' was a strong song. Our drummer at the time, Brad Noone, said, 'If this song isn't a hit, there's nothing more we can do.' We felt really confident about it."
"We wrote 'Fireproof' on Sept. 11 [2001] in Green Bay, Wis., in a youth room in some church with the TVs going all morning long," Rob remembers. "I already had the lyrics done, so it wasn't an influence; that was just the day we happened to write the music. When we finished it, we knew the song was going to be awesome; and with that, it sort of eased some of the tension in writing the rest of the album."
"Fireproof" sold more than 100,000 copies by the time mainstream label MCA got involved with the project, licensing the record from Flicker and re-releasing it in the fall of 2003 with a remix of the single and a cobbled-together bonus DVD of live performance footage. The single made it to No. 39 on Billboard's Mainstream Rock Tracks chart, and the album reached No. 6 on the publication's Heatseekers retail chart. Fittingly, the band picked up some publicity in magazines, including Rolling Stone and Hit Parader and found themselves opening for some of modern rock's heaviest hitters. 
"We got to do some cool shows with Korn, with Sevendust, another one with Trapt and some mainstream festivals," Kalel says. "We got just enough mainstream exposure to stick our foot in and see what it was like. But we've never talked like, 'Hey, we're gonna go mainstream and do this or that.' We just kind of did what we do — go play our shows and go through the doors that opened up."
But even after tacking another 100,000 units or so onto the sales total for "Fireproof," Pillar fell victim to the realities of today's music business when MCA was dissolved into parent company Universal Music Group. The band was shuffled onto the roster of Geffen Records, where Pillar was virtually anonymous. Kalel cuts to the chase, "When we got to Geffen, there was nobody there who knew what Pillar was or even cared."
The now-veteran band, having been together in some form since 1998, took back the reins of its career from the disinterested mainstream label, and set out to forge ahead with the next step … but not without breaking some things down first.
What's Next?
In the midst of what seemed to be dark days, Pillar was able to turn for direction on what its next step could be to another group: the fans.
"When we were doing the release week with MCA, we did four in-stores in two days: Tulsa, Wichita [Kan.], Kansas City and Columbus, Ohio," Rob says. "At a couple of those shows, they wanted us to play; and we couldn't do a rock set because they wanted us to play indoors. So we had to do acoustic sets, and somehow we pulled it off. We taped it with a cheesy home video camera; and I did this little video clip, put it on our Web site, and our fans just loved it. They told us we should record an acoustic album.
"We started brainstorming because we knew we weren't going to be able to even get into a recording mode until December or January," he continues. "So in September, we made the decision to pull out the stops; and when we were going in to record 'Sunday Bloody Sunday' [for 'In the Name of Love: Artists United for Africa,' the benefit/U2 tribute album], we also decided to do an acoustic track of 'Further From Myself' and see how it turned out. We did that and a track of [the new album's first single] 'Bring Me Down,' thinking we'd put one new song on there."
And in Pillar's typical, let's-get-it-done fashion, the band took it one step further. Setting up a live show in its adopted hometown of Tulsa, Okla., and personally taking care of the details — from set design, to lights, to production — they recorded and filmed the performance for what would become "Broken Down: The EP." "We've got a real hard-working band and crew," Kalel says. "Everybody's very involved in all aspects of it, and it's not like our manager just calls us up and says, 'Here's where you need to be and when.' Our hands are in every cookie jar that has to do with Pillar."
So even while the volatile nature of the music biz was roiling around them, the men of Pillar were able to not only fashion something satisfying to themselves and their fans, they set the next creative season of their career into motion. "We'll make the best glass of lemonade in the world out of a sour, rotten lemon," says Rob.
However, the fact remained that there were still questions. Many asked why Pillar would align itself alongside mainstream bands with less-than-sparkling reputations or play in venues such as clubs or bars, where a Christian audience is not altogether comfortable or sometimes welcome. It's a conundrum every artist who has ventured beyond the standard confines of Christian music has faced, and Pillar, more so than most, because of the aggressive nature of the music it plays.
But the men who make up Pillar, through much prayer and discussion amongst themselves, their families and the people who hold them accountable, have come to believe that this is their calling.
"We just want to write music that, if it can encourage the choir, cool; and if it can go beyond the walls of the church, even better," Rob says. "One aspect of the Christian life is that we are to hold each other accountable. If you honestly feel in your heart that God wants you to ask us about something, dude, come and ask," Kalel continues. "If you're a Christian brother, we want to hear that. But, and this is not just with us but with anything going on in your life, really think and pray about it first before you try to judge and come down on people."
"We played the Whisky A Go-Go on Sunset Boulevard in L.A., and we got an e-mail from a guy; and he ripped me apart, basically," Rob says.  "I e-mailed him back and asked, 'What is it you're so mad about? Are you mad because you don't have the guts to go out on Sunset Boulevard, stand up on a stage in front of people and sing songs about a God who has done things you don't even comprehend? Are you so insecure about yourself that you have to get mad at me for doing what I'm called to do?'
"He e-mailed back, and it was almost like you could feel the tears rolling out over the computer screen. I could just feel that I'd struck a nail into his heart, and he said I was right," Rob continues. "The only expectations we need to live up to are the ones God expects from us."
A New Sound
One thing Rob and company vowed not to let tear them apart was the creation of the new record, "Where Do We Go From Here." Buoyed by a new recording agreement with Flicker, the band went into the studio in the waning months of 2003, ready to craft its next step, replete with new ideas garnered from its fall headlining tour and excited to finally record with new drummer Estelle.
"Everybody was asking us if we were nervous because 'Fireproof' was so good and did what it did," Rob says. "I really wasn't nervous about the music because I knew it was going to come together. Noah was writing some really good stuff, Mike had some really cool bass lines, and Lester just brings a whole new groove to the band.
"They all had some great things, but I was a little stressed. How am I going to write? I was dreading it because I was a little nervous about trying to come up with ideas to finish songs," says the often-nonchalant frontman. "But we got in the studio and, in thinking about all the things we had been through, they'd just appear. I'd come up with a melody or an idea for the lyrics, and they'd just fit."
"One thing I think really helped is that we had 'Bring Me Down' bagged," Kalel says. "We were trying to do something new, rather than just copy what we were trying in the past. It had been two years since we recorded, so it proved to us we could still do this."
The result moves Pillar away from the rap-metal pack it'd been running with and more toward a full-featured rock & roll band. The heavy guitar sound is still there but with more emphasis on hooks and melodies to go along with the riffs, and Estelle's rhythm work clearly adds an element that was missing in previous Pillar projects. "I've become a lot better player and still have to improve because [Lester's] so good," says Kalel. "His rhythm is so amazing, and he's opened my ears to so many more things I can play. I think the way the guitars and bass work together really shine on a few songs, like 'Bring Me Down' and 'Simply,' where we're playing complex, completely different parts; and they work together — really weave in and out of each other."
Those complex parts sometimes made the recording process a tad contentious, as Noah's guitar parts would give way to Rob's needing to find a thread he could sing to within the framework of the riff. "Noah and I are always going at it," says the vocalist with a smile. "I say, 'I can't sing over that; there are too many changes in that riff.' And he says, 'Well, I don't want to play a simple riff like everybody else.'
"We duel each other to try and get something better out of each other. His riffs aren't just simple, open, strummy 1-4-5 chord progressions. Some of the stuff is very intricate, and I have to sit down and think about what notes, what mode, what scale, what transitions will fit over his riffs."
As far as themes running through "Where Do We Go From Here" go, again much of it is drawn from Rob's introspective nature. "I think a lot of it was just me dealing with me and questioning my faith, questioning why people question me," he says. "'Let It Out' is me questioning everything, and the verses are asking things; and in the chorus I'm just letting everything out and crying out to God.
"'Simply' is kinda the same thing. Even though we do the dumbest things, God simply loves us. When I first wrote it, I thought it was so cheesy. But when I recorded it, it was so profound to me; and now I don't care if anybody thinks it's cheesy.
"It broke my heart to realize how simple God's love is, and we make it so complex," he says. "We make it a legalistic love, like God doesn't love you because [of something you did]. It doesn't matter; God will love you."
Open Doors
Having wrapped up its run on this year's "See Spot Rock" tour and awaiting what "Where Do We Go From Here" will do, the guys in Pillar sense new doors opening all around them. But for potential fans unfamiliar with the band and what sets the guys apart from their hard-music peers, both Christian and general market, what would Pillar say to get them to try their music out?
"The funny, arrogant answer is that I can actually sing," Rob says, setting off laughter from others in the room. "Seriously, if somebody were to see us live and try to explain to their friend why he or she needed to go see us, we'll put it this way: There are a lot of bands out there with great music. There are a lot of bands out there with great live shows. My opinion of our band and the guys I get to be onstage with is that they're great musicians; they all rock — great stage presence, great performances — and they own their instruments and the music. I'll take the heat over sounding like some other vocalist, but don't mess with my band."
And for those folks who feel they have an issue with some aspect of the band, be it their look or the places they play or the bands they share a bill with, Rob replies: "You can buy the record, and you can support us that way. You can not buy the record; but pray for us and support us that way. You can come out to the show and support us that way. You can talk to somebody about us, support us that way. If you're not comfortable coming to where we're playing, by all means, don't come and put yourself in a jeopardizing situation. If you're a recovering alcoholic, and you come to a show at a bar; and you stand there, and you're twitching because you want a drink, by all means, don't come to the show. Catch us next time at a different venue.
"But if you want to come out and be a light in a dark place, by all means, come to the show, cheer for Pillar and leave when we're done," he says. "Or hang out with us afterward or before or whatever. But don't bash us for what we're trying to do. We really are trying to do this with integrity, to do it to the level we know we're called to do."
It's the best way Rob Beckley, and all the men of Pillar, knows how to look at himself in the mirror every morning.

© 2004 CCM Magazine.  All rights reserved.  Used with permission.  Click here to subscribe.