One to Watch: Andrew Carlton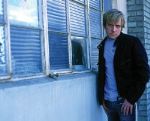 Flying Leap Records artist Andrew Carlton is a performer who wears his emotions on his sleeve. The Knoxville, Tenn., native's debut disc, "Falling In,"  is intended to reach a generation of seekers as it paints pictures of pain, faith and hope set to a rock and pop background.  
CCM:  What does your music sound like?
Andrew:  I can do that vocalist ballad but yet pick up the guitar and have that rock feel. I bring an edge but also that moment in the show where there's just a vocal and piano. Truthfully, I'm hoping to hit every generation, and that's not a very common thing in our industry. I'm just going to sing what I love and what's in my heart. I wrote these songs without thinking about the critics.
CCM: How do you personally write a song? 
Andrew:  There are a lot of ways. With all my traveling it seems like I'm always at an airport. I'm constantly calling my voicemail and singing into it because a melody has popped into my head. I try not to look crazy to the people around me. I believe melody is music with the lyrics being the distinction between us [Christian music] and the mainstream market.
CCM:  It seems that pain is a theme woven throughout your last few years. Can you talk about that?
Andrew:  Inside of a two-year time span I lost my grandfather, who was a huge influence on me; and my parents divorced after a 30-year marriage. It can make you question your faith. It rocks you. God has used those situations to draw me closer to Him. As a songwriter, I released a lot of that pain into my music.
CCM:  Do we need to experience pain before we experience grace?
Andrew:  I know that I've had to. I think Mel Gibson said it best in his interview with Diane Sawyer [ABC's "Primetime"] when he said, "Pain is the pre-cursor to change."

© 2004 CCM Magazine.  All rights reserved.  Used with permission.  Click here to subscribe.