One to Watch: BDA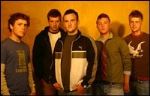 There must be something about that place — Greenville College, home of Jars of Clay, has produced another "band of brothers." But don't start making comparisons. BDA is a far cry from a Jars clone. With a lyrically driven, upbeat style, these five guys have already toured the country — in an RV, nonetheless. Recently signing with Creative Trust Workshop, BDA's debut, "Better Days Ahead," bowed in October.
CCM:  How would you describe your sound?
BDA:  I think the phrase we hit on was melodic pop. It's kind of approached with a rock feel — with a lot of emphasis on melody. "You Love Me When" is a mix of a lot of different styles. It's probably the best amalgamation of who we are.
CCM:  The album resonates with a love theme. Why is that?
BDA:  There are a lot of things that don't really make sense or aren't really true that are being said [about love] in some of the music that's out there today. As we look through the Bible, it's such a central topic — God's love for us, the central event of the cross. So if we're going to talk about the big ideas of Christianity, what better concept to explore?
CCM:  When you think of your future and, literally, better days ahead, what is your vision?
BDA:  It's always been seeing what God has done — focusing on the hope that God will provide for the future. I think we're all just hoping for what's around the corner. We're not in this to be another rock & roll band because Christian music doesn't need another rock & roll band. But Christians need somebody to make music that will make an impact on their lives. That's what our passion is.

© 2005 CCM Magazine.  All rights reserved.  Used with permission.  Click here to subscribe.