One to Watch: Daily Planet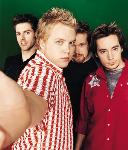 Band 411:  Jesse Butterworth (24), vocals, acoustic guitar; Seth Davis (25), bass, vocals; Bobby Reinsch (27), electric guitar, vocals; Danny Lund (25), drums, vocals.
Current Digs:  Nashville, Tennessee.
New Album:  Hero (Reunion), released August 20, features strong hints of classic
'70s rock and funk.  "We usually say it's like Matchbox 20 meets Dave Matthews Band, or Dave Matthews Band meets Creed," says Butterworth, who writes the bulk of the material.
Influences:  Their musical touchstones range from George Gershwin to 1980s-era glam metal bands.  "I'm a huge Beatles fan," Butterworth says.  "And I absolutely love James Taylor.  I really tried to emulate him when I was learning to play guitar."
Favorite Cut:  Written as a reaction to his parents' divorce, Butterworth says "Six String Rocketeer" is the hardest song he's ever written but also the most rewarding.  "That was a very tough time in my life, and I felt like the writing of the song was a real capping of the healing process for me."
Back Story:  The band met at Azusa Pacific University in California and released two independent CDs under the name HouseBlend.  After a sabbatical in 2000, they regrouped to open a show for the band Jake—and soon found themselves being courted by Reunion Records.  The group signed in July 2001, moved to Nashville and began recording Hero that fall. 
On the Road:  The band will join the ShoutFest tour this fall with Salvador, Jeff Deyo and The Rock 'n' Roll Worship Circus.
Lessons Learned:  The band had to wait longer than expected to hit the studio, and "we were kind of getting mopey," Butterworth says.  "We had to press into
the Lord and learn some valuable lessons about downtime and how it is a very valuable time."
Goal:  "We want to cause people to crave a firsthand experience with God. Christianity is about a relationship; it's not about secondhand news that you got from your pastor."
Used by permission.  CCM Magazine © 2002