One to Watch: Inhabited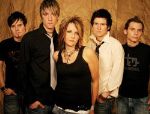 Inhabited is a Houston-based rock band featuring lead singer Sara Acker, her brother/guitarist Marcus Acker, drummer Jerrett Horn, bassist James Colvin and guitarist Justin Tinnel.

The band's label debut, "The Revolution," was produced by industry veteran Monroe Jones (Third Day, Caedmon's Call) and released in July on Fervent Records. The album's transparent lyrics portray the struggle for identity, yet always lead to the redemptive love of Jesus as the solution. Sonically, "The Revolution" is hard-hitting but also wonderfully melodic and textured.
Paul:  I read that you spend many hours answering e-mails from young people who are struggling with all sorts of issues. Is this as important as the music?
Sara:  It's a weird experience when you go and do a show sometimes. You immerse yourself in the music and pour out your heart before an audience, hoping that you will reach them. Then afterward, you often come face to face with those who thank you for encouraging them, but then you leave. You go to the next show and pray that they keep seeking. So, I think the music and message go hand in hand. ... I feel those e-mails are really an important part and have opened my eyes to the vast need and hunger for truth. I don't always have every answer, and often find myself seeking God for wisdom, but He is faithful.
Paul:  If you had to summarize your message to your audience in a single sentence, what would it be?
Sara:  We want to bring hope to the hopeless, love to those who feel unwanted, purpose to those who have given up, encouragement to those who are discouraged, truth to the lost and cause even the skeptics to revisit their thoughts on God.
Paul:  Tell me about the name "Inhabited."
Sara:  The meaning is twofold. Psalm 22:3 says God inhabits the praises of His people. We always want to put on a good show, but we also want our music to usher in God's presence! I Corinthians 6:19 says we are inhabited by the Holy Spirit. We are indwelt by the 'spirit of truth' (John 14:17) and want our lives to reflect that. We want to honor God, not only on stage, but also with our lives. We are not our own!

© 2005 CCM Magazine.  All rights reserved.  Used with permission.   Click here to subscribe.