One to Watch: Janna Long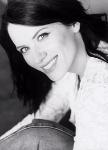 Janna Long will never be a pop star.  She's not high maintenance, she's not self-absorbed, and she's not consumed by her career.  In fact, if it weren't for those soulful pipes, this former psychology major and self-proclaimed homebody would have a career as a lawyer and spend time in Nashville with her husband and fellow singer, Greg Long.  Nevertheless, this Baltimore native chose music over the courtroom, and after singing with the foursome Avalon for seven years, she released a solo record, Janna (Sparrow), late last year.
CCM:  What's your quirkiest habit before a show?
JL:  I usually have to find a cup of coffee—something about drinking something warm seems to help my voice.  And something I heard a long time ago when I moved to town…was that when Amy Grant would go and record, she was a big fan of Lays potato chips.…  It gave me a great excuse.
Editor:  I'm still looking for a celebrity to justify my ice cream cravings…
CCM:  What's the strangest thing a fan has ever said to you?
JL:  Luckily, out of the four, I don't seem to get a lot of weird comments.  Other members do…  One time, a girl walked up to someone in the group and said, "I think you're really funny, but your pants are way too tight."
Editor:  Hmmm.  Our guess is it's Michael.

CCM:  Have you ever been mistaken for another Christian artist?
JL:  In earlier days, Cindy Morgan, Pam Thum and Heather Payne from Point of Grace.
CCM:  If you were a music critic, how would you describe your music?
JL:  …I don't think I break any new ground theologically, and I'm totally fine with that...  It's a record of songs that encourages the body of Christ.  And stylistically, this record is a bit more gospel-geared and [has] more of an R&B flavor than anything I've done with Avalon.
Editor:  Think Crystal Lewis meets Cindy Morgan.
Used by permission.  CCM Magazine © 2003  Click here to subscribe.