One to Watch: Jimmy Fedd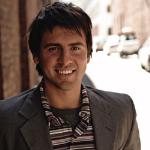 Jimmy Fedd began taking piano lessons at the age of four and spent his youth learning how to play guitar, mandolin, trumpet, violin, organ and accordian. He has the kind of smile that's infectious and the kind of personality that reminds you of your favorite cousin. Perhaps it is these two qualities, along with Fedd's experience as a music minister (he became his church's pianist as a 7-year-old) and songwriter, that not only landed him a record deal with Doxology Records but also garnered him a starring role in "The Making of an Artist" (FamilyNet, Daystar Television), a Christian addition to the reality show craze. Whatever the case may be, he's taking it all in stride.
CCM:  So, how did all of this come to be: a recording artist and star of a television show?
Jimmy:  I have wanted to be a recording artist since I was 18. Around 20, God showed me my gift of leading people into worship. After moving from New Jersey to Nashville, I volunteered as the youth choir director for Christ Church, which soon transitioned into the role of worship leader [for the whole church]. It's funny how, when you lay things down and surrender them to God, He often picks them back up and hands them back to you. I didn't have to chase down a deal. In its own timing, it basically fell into my lap.
CCM:  What are your favorite songs on "I Find You" (Doxology)?
Jimmy:  "O My Soul" is a song I wrote with my sister-in-law, and "Anymore" is a song I wrote with my sister. Those are very close to my heart. Also I like "Always Be with You," which is like a "Friends Are Friends Forever, Part 2." I think that's one young people can really relate to.
CCM:  What have been the biggest adjustments you've had to face since this transition?
Jimmy:  I just had a daughter, and so the traveling is hard — so is learning about the business side of things. As it relates to the reality show, I have always wanted to reflect attention, not absorb it; so that has been challenging. But I don't hold on to things so hard it will cause my weight to shift and cause me to fall. I am dependent on God. We'll see where He leads next.

© 2003 CCM Magazine.  All rights reserved.  Used with permission.  Click here to subscribe.