One to Watch: Joel Engle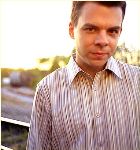 As a child reared in foster homes, tragedy and transition couldn't damper the passion and determination Joel Engle had to express his faith through music. A Christian from the age of 16, Joel has spent the last 10 years of his life traveling the country, leading worship and making the music he loves. About a year ago, he nearly left music entirely to plant a church and serve as its pastor. But God had other things in mind. Now, signed with Doxology Records, Joel has been hard at work on "Made for Worship," an album that highlights how worship intersects with the real world.
CCM:  If you were to define worship, what would you call it?
Joel:  I would call it "bowing down before Christ." The actual word in the Old Testament for worship means "to bow down," and it's the same in the New Testament. That is my definition of worship. It's a life of bowing down our allegiance and our lives in surrender to God.
CCM:  How has working with the label affected your musical style?
Joel:  It's gotten a lot better. God has put so many amazingly intelligent and gifted people in my path who have seen the talent God has given me, and they have pushed me to my limit as a musician. That's a wonderful testimony of the body of Christ, too. You just can't grow as a musician or as a believer without having other people push you where you need to go. Iron sharpens iron; one man sharpens another.
CCM:  You experienced a lot of pain early in your life, especially losing both of your parents. Now, as the father of a 2-year-old, how do you see God at work through those struggles?
Joel:  I never knew my dad, and my mom died when I was 11. But there's a verse, Joel 2:25, that says, "I will restore what the locusts have eaten." Having Elizabeth is a lot of restoration to what the locusts have eaten in my early life. God has put this love in my heart for her and this joy. She just brings joy to me.

© 2005 CCM Magazine.  All rights reserved.  Used with permission.  Click here to subscribe.