One to Watch: LA Symphony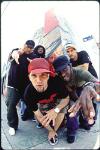 OK, let's do the math. One indie release ("Composition #1"), divided by one shelved album ("Call It What You Want"), plus one EP ("Baloney") equals a highly official label debut ("The End Is Now," Gotee) by five bonafide MCs — FLYNN, CookBook, Sharlok Poems, UNO Mas and Joey the Jerk, otherwise known as LA Symphony. Since forming in 1997, this group has learned lessons about spirituality, the music industry and integrity. Now these five are ready to teach their ever-growing fan base a thing or two. Listen up; class is in session.
CCM:  We haven't heard from you in a while? Where have you been?
FLYNN:  Recording music, touring, harnessing our craft.
Joey:  Oh, and crying a lot.
Sharlok Poems:  In many ways and for a lot of reasons, these past few years have been very trying times for us; but the great thing is that, as a result, we have grown as artists by becoming better songwriters, producers and performers. We've also learned a lot about the [music] business.
CCM:  With the new album releasing, is it safe to assume things are better now?
Joey:  Definitely. Although technically it's not our first release, it kind of feels that way. We recorded this project while we were frustrated, but it gave us clarity about our purpose and talents. We are more confident now, so we're ready to move forward. That's why we titled it "The End Is Now."
CCM:  What can we expect from this project?
FLYNN:  There's so much confusion about the quality of hip-hop because there are so many cookie-cutter artists these days. We consider ourselves to be hip-hop artists, but we strive to be artists who put out good music that transcends specific genres.
Sharlok Poems:  When we agreed on the name LA Symphony, it was because of where we are from [L.A.]; but, most importantly, because a symphony uses different instruments and sounds to create great music. That's us.

© 2004 CCM Magazine.  All rights reserved.  Used with permission.  Click here to subscribe.