One to Watch: Matthew West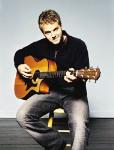 Who would have thought that severing an artery in your left arm would be a great career move? Matthew West certainly did not think so after he was injured while trying to break into a window at his home two weeks prior to signing a recording contract. Yet the incident would end up having positive implications, both personally (It cemented his relationship with his future wife.) and professionally (It changed the course and content of his musical output.). The title of his modern-rock debut on Sparrow Records, "Happy," reflects the mindset of a man who is grateful to be alive.
CCM:  How is it that your serious injury lead to such musical happiness?
MW:  I could have died from this accident, which I first thought was a major setback. But the record label stood by me; and, since it took eight months longer to finish the record, the whole identity of it changed. Instead of being a compilation of older songs, there are all new songs that came after that time. The songs are fresher for where I am and are more true to my life now. This accident was no accident.
CCM:  How did it effect your relationship with your wife?
MW:  Emily worked at the record label I was signed to — we had been dating a month and I was ready to go out on tour which may have ended the relationship. Then the accident occurred. When I went into the hospital she was the only one there and she stood by me. I was thinking it was too soon for her to see me in a hospital gown, and she made a conscious decision to stay with a person who may have been losing his dream. She nursed me along, we got closer, were engaged three months later and married within a year.
CCM:  Did your music training in college initiate your decision to pursue music full time?
MW:  Well, I didn't want to think the money went to waste [laughs]. I fell in love with the idea of communicating in this way and had listened to so much pop music that I said, "I could do this." 
CCM:  You have been touring college campuses for over three years now. Why did you wait so long to release "Happy"?
MW:  I purposely did that. I came to Nashville first as a songwriter and would write with new artists who did not know what they wanted to say because they did not know who their audience was. Before completely focusing on being an artist, I wanted to build my audience and hone in on a style.

© 2004 CCM Magazine.  All rights reserved.  Used with permission.  Click here to subscribe.