One to Watch: Monk and Neagle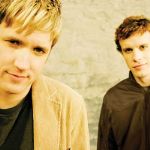 Trent Monk and Michael Neagle, the latest to sign with Flicker Records, have a lot in common. Monk and Neagle both hail from Amarillo, Texas, play guitar and have been happily married for five years to women they met at their home church. Plus, they're horrible mechanics when it comes to fixing their RV. However, this duo makes up for its automotive shortcomings with superb songwriting and harmonizing as evident in its self-titled debut, which released in August.
CCM:  How long have you been playing guitar?
Neagle:  We've been playing eight or nine years each. Trent and I actually met in our home church's college group. We became college leaders and picked up the guitar and started singing about the same time, so it hasn't been forever.
CCM:  Had you both recorded independently prior to this?
Monk:  I did my first [indie project] probably six years ago now, and then I started traveling as an independent artist, playing wherever I could. In 2000 I recorded another one, and then it was after we had been on the road with Shane & Shane on the first leg of the tour that Michael [Neagle] recorded his to come out on the road and sell. So his hadn't been done very long when we decided to become a duo.
CCM:  Does your duo debut project include songs from any of your solo albums?
 
Monk:  We kind of rewrote some of the lyrics on a few, but there's a lot of new stuff. That wasn't planned really. When we got into the studio with Ed Cash (producer), we all started creating and writing; and the process was beyond anything we've ever experienced as far as songwriting goes. We hope that people enjoy the music, and we feel that it's a little bit outside the box. We want people to have good music but also hear the message behind it, and that's love for God and love for our family.

© 2004 CCM Magazine.  All rights reserved.  Used with permission.  Click here to subscribe.