One to Watch: Nate Sallie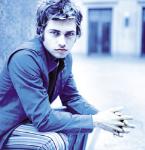 Life for Nate Sallie has been a whirlwind since the release of his debut album, "Inside Out" (Curb). He was part of the summer Radio Disney tour and the Seventeen Magazine/JC Penney "Back to School" mall tour. He opened for Newsboys, and he even performed in Florida at the Elite Model "Look of the Year" contest. Using his time in the spotlight to champion good causes, he is also a spokesperson for both the "Partnership for Drug Free America" and the "Support Music" campaign. Things haven't slowed down yet as fans can currently find him on the road this fall with "ShoutFest." CCM caught up with Sallie to learn about this former piano teacher's new life.

CCM:  Since you travel so much, what's your biggest pet peeve about flying?

Nate:  It would probably be just the amount of space — how your knees are always bumping up against the seat in front of you. I was afraid of flying for a long time. I used to tell this story to set up one of the songs in the show: I told this guy that I was afraid of flying, and he goes "Nate, you're not afraid of flying; you're afraid of crashing. And I believe that God has a specific purpose for your life, so until that is accomplished, you're indestructible." That definitely gave me a peace about flying.

CCM:  What's your favorite lyric on your album?

Nate:  It would have to be a funny one — "You watch your exercise videos while you down a bag of Oreos," in the second verse of "It's About Time." We can go through an entire 45-minute show, and the one thing a lot of people say when they come up afterward is, "I love that Oreo line."

CCM:  Which celebrity would you most like to meet?

Nate:  I'd like to meet somebody like Billy Graham and hang out with him. I've also always wanted to meet Michael Jackson. I'd like to catch him when he's not in front of the camera and see what he's really like, what he's really all about. Sometimes I wonder.

CCM:  Is there an overt difference between playing for a church crowd and other types of crowds?

Nate:  I try to tailor what I say. I try to say something between songs that somebody can catch hold of and go, "That meant something to me" or, "I can use that." Also, I put Psalm 91 on the pictures and CDs I sign. People will ask me, "What does Psalm 91 mean?" I tell them that it is my favorite chapter of the Bible. Sometimes they'll say, "That's cool," or, "I've never read the Bible; I'll have to check that out." It's just a little thing, planting seeds … you never know.

© 2003 CCM Magazine.  All rights reserved.  Used with permission.  Click here to subscribe.