One to Watch: Olivia the Band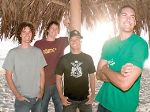 What you see is what you get …
From the sun-kissed beaches of Hawaii all the way to Nashville, Tenn., the four surfer boys of Olivia the Band are making waves in the Christian music community. The band, comprised of vocalist/bassist Reed Cromwell, rhythm guitarist Gabe Watts, lead guitarist Justin Abilla and drummer Christian Perreira, left the Aloha State for the beaches of Southern California. After a few months of playing to sold-out crowds, the punk/pop band was signed to Essential Records.
With its self-titled debut that hit stores in January, this energetic foursome clearly puts its faith on display with fun, refreshing honesty and sincere commitment to ministry.
CCM:  What's the story behind your band's name?
Justin:  I had a sister named Olivia Grace. My mom was eight months pregnant with her when she passed away. We thought it would be cool to name the band after her. We definitely know that God has a bigger plan, and He can totally use that situation for His good. Even if we had never left the island, just the few people who heard us in the beginning would know that we have hope that God's going to use it.
 
CCM:  How important are your relationships with each other?
Justin:  God definitely brought us together, and we have a super-tight relationship. I think the hardest thing for a band is just to stay together. I think that's the trick because there are tons of bands that are so musically talented and write the best songs, but then they go on tour and get into a fist fight; and its over. So besides God, our friendship is the next strongest point of our band — even more than our music. What we are onstage is who we are offstage and who we are at home with our families.
CCM:  What do you believe God has shown you as a band?
Justin:  God has totally shown us that all we have to do is be willing to allow Him to take us where He wants us to go. That's what we've done with this band from day one. It's always been for God.
 
© 2005 CCM Magazine.  All rights reserved.  Used with permission.  Click here to subscribe.