One to Watch: Sarah Sadler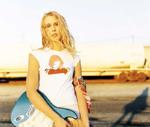 D.O.B.:  April 24, 1983
Hometown:  Rutherfordton, North Carolina (between Charlotte and Asheville)
Current Digs:  Franklin, Tennessee
Super Dad:  Gary Sadler is a well-known songwriter who has hundreds of published songs, including "Ancient of Days" and "The Power of Your Love."  "I've written a lot with my dad, and he's been invaluable in teaching me about the process of writing, the creative side of things and the place that comes from within you," says Sadler.
What's Different:  She may be young, but she writes with wisdom beyond her 19 years.  "I know I'm more of an onlooker because I haven't experienced everything there is to experience," Sadler says.
Influences:  Sting ("Of course."), Shania Twain ("She's huge, she changed country!"), Dave Matthews, Susan Ashton, Lauryn Hill and Jonatha Brooke ("She challenges me vocally to sing through my soul, not just my throat.").
New Album:  Sadler describes her self-titled Essential Records debut as having "a singer/songwriter base [with] unique instrumentation and electronics.  It fits into several categories—my vast category of influences melts into one sound that's me."
Fav Cuts:  Not able to pick one favorite from her new album, Sadler narrowed it down to "Simply Complicated" and "Dreams of You."  "'Simply Complicated' can be applied to every relationship," says Sadler.  "No matter how much you love somebody, you have to accept that in some things, you aren't going to see eye to eye.  Musically, it really has no structure, nothing really repeats in it—it just became what it wanted to be.  'Dreams of You' is the hopeless romantic side of me—a view of eternal love, true love, long lost love."
Road Rules:  With acoustic guitarist and percussionist in tow, Sadler will be on the road with Bebo Norman for select dates on the "Circa 2002" tour.
Why This Job:  "I don't think I can do anything else.  I love it, and I feel like if you're gifted with something that you feel strongly about, you're supposed to do it."

Used by permission.  CCM Magazine © 2002
Click here to subscribe to CCM Magazine.
Buy Sarah Sadler now at www.lifewaystores.com!