One to Watch: The Showdown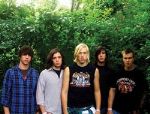 The Showdown – vocalist David Bunton, guitarist/vocalist Josh Childers, guitarist Travis Bailey, bassist Eric Koruschak and drummer Andrew Hall – is a metal band from Elizabethton, Tennessee.
Its debut album, "A Chorus of Obliteration," released by EMI-distributed indie label Mono Vs. Stereo, is an epic assault on the senses. Thematically, the record deals with the battle between good and evil and … it certainly sounds like it. The band is already receiving glowing reviews from mainstream metal magazines that emphasize The Showdown's authenticity. 
Paul:  What inspired the title "A Chorus of Obliteration"?
David:  Well, [the album's title track] is about the wall of Jericho. It ties in with our record because a lot of our songs are about Old Testament battles.
Paul:  What would you say to anyone who says the sound of metal is angry and hard and does not seem to usher in a sense of peace?
David:  I would agree – that's just what metal is. It's aggressive, extreme and heavy. It's a style of music that we like and enjoy playing, and we use it as a vehicle for our message.
Paul:  Where did the inspiration for this album come from? Is it an intentionally thematic concept record?  
Josh:  Basically, it's about Old Testament and spiritual warfare. ... The whole concept of being a spiritual warrior is fascinating. So many people see Christians as tame and boring, but really it's a constant battle. It's constant daily warfare, and relating that back to the Israelites fighting the Philistines, or angels and demons going at it, really interests me. It felt like a rallying cry, a call to what should be a nation of warriors but is seen as a group of weaklings. Hopefully, we've inspired some people to wake up and fight.
Paul:  You're getting extremely positive reviews from a lot of mainstream metal/music outlets, and it's obvious that your lyrics are biblically based. Why do you think the response is so favorable?
Eric:  We really wanted to put out a record that would be totally legitimate in both the Christian and secular worlds, and we did. The record was meant to hit both audiences, so it has been a huge blessing to gain so much respect from mainstream/metal press. By making no apologies and having no reservations with the music, it opens the door for the message of Christ through the lyrics. And that is our goal.

© 2005 CCM Magazine.  All rights reserved.  Used with permission.  Click here to subscribe.