"One Zero" a Raw, Acoustic Offering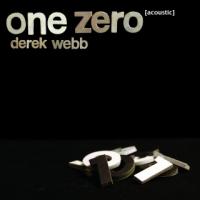 Artist: Derek Webb
Title: "One Zero (Acoustic)"
Label: INO
Strip it all away – the sonically enhanced production, the crowd-pleasing single, the feel-good lyrics. "One Zero (Acoustic)," Derek Webb's newest album, hangs exposed against a fluorescent screen, revealing the heart of one of Christian music's most lyrical songwriters. The album disrobes 10 songs from Webb's last four solo projects down to a raw, acoustic offering.
The unornamented sound of a single guitar compliments the honest lyrics. And, though some vocal instructors would cringe, Webb's abrasive voice passionately communicates harsh messages that convict the soul. From his most recent album, "Mockingbird," Webb hoarsely cries out at the end of his song, "King and a Kingdom," "Nothing unifies like a common enemy. And we got one sure as hell."
Instrumentally, Webb adds spice to his signature folk sound with a little Beatles and blues-inspired melodies.
But Webb's strength shines in his ability to shamelessly expose uncomfortable political, social and faith issues that traditionalists tend to store in the dark room. "Rich Young Ruler" describes entangled hearts caught in a web of wealthy Western culture. "Ballad in Plain Red" takes on the voice of Satan applauding his own success in the 21st century, blinding the world to real truth – as he says, "Truth without context, the favorite of all my crimes."
More of Webb's heart is unveiled through ballads of intimacy with his wife and his Savior in songs such as "Better than Wine" and "Medication."
Piercing, provoking, austere, audacious, vulnerable, challenging, transparent, naked, convicting, candid: one zero descriptors for one zero of Webb's finest songs.


© 2007 CCM Magazine. All rights reserved. Used with permission. Click here to subscribe.