Ones to Watch: Brandon Heath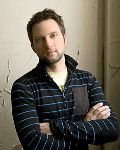 Brandon Heath is a pop artist who was born and raised in Music City – Nashville, Tenn. He is an exceptional songwriter whose compositions have been recorded by Bebo Norman and Joy Williams, among others.

And, now, Brandon is the artist singing his own songs on his new album, "Don't Get Comfortable" (Reunion). Produced by Dan Muckala (Backstreet Boys, The Afters), the CD released this past fall. Check out brandonheath.net and myspace.com/brandonheath.
Paul:  Name three songwriters that you'd love to co-write with.
Brandon:  Martin Sexton, Sheryl Crow and Brad Paisley.
Paul:  Tell us a bit about how "Our God Reigns" was written. It's an amazing song. 
Brandon:  Thanks! I was singing the chorus of "Our God Reigns" in my head on a plane ride home. I was struggling with a little anxiety considering all the things going on in the world. I decided that I would put my hope and faith in God, who is sovereign over all the earth, rather than anyone on earth. When I landed in Nashville, I finished the song and led it at church a few weeks later. We've been singing it ever since.
Paul:  For those out there who are yet to be introduced to your music, how would you describe it?
Brandon:  David Gray walks down to a white sandy beach. He's meeting his friends Moby, Joni Mitchell, Seal, Chris Tomlin, Garth Brooks and Imogen Heap for a little campfire get-together. David brings his guitar, and they all start singing. That's me!
Paul:  What's your favorite place to perform?
Brandon:  That's a tough one! The club room at the Malibu Club in Canada.
Paul:  I know you love to write with a close circle of friends. Who are
these people?
Brandon:  Chad Cates, Matt Wertz, Steve Hindalong, Jason Ingram, Ben Glover, Dan Muckala … the list goes on.
Paul:  What's the song that people most connect with that you've written and why?
Brandon:  There's a song called "I'm Not Who I Was." It's the one people want to talk about after a show. It's about forgiveness. I think people relate so well to it because everybody needs forgiveness. Some people just need permission to forgive themselves.


© 2006 CCM Magazine.  All rights reserved.  Used with permission.   Click here to subscribe.