Ones to Watch: Carried Away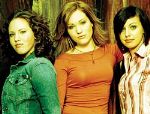 Carried Away is Canada's latest Christian music export. Sisters Colleen and Pam Walker and cousin Christine Prankard went from singing their favorite Point of Grace song at a local talent show to becoming international recording/touring artists. Carried Away's debut album, "Closer to You," hit shelves in the United States through Glide/Shelter Records last summer.
Paul:  How did two sisters and a cousin become a rock band?
Colleen:  Honestly, Pam and I had no idea Christine could sing, and vice versa. We found out five years ago when Christine brought over the "new" Point of Grace CD, and we all joined in singing our favorite, "Keep the Candle Burning." We were actually surprised to hear how naturally our harmonies came together. So, after two years of winning first place in three categories for a local musicfest competition, singing at various churches and growing together as a group, Carried Away was formed three years ago. Since then, we have recorded our debut album and thrown in awesome band musicians.
Paul:  What is your CD,  "Closer to You," all about?
Colleen:  Our album is really and truly about lifting up the name of Jesus. For example, the song "Lift" talks about lifting our eyes, our voices and our hands -- basically giving all we are and all we have -- to worship God. When people listen to this, it's our prayer that they are challenged to live a lifestyle of worship.
Paul:  What is your favorite lyric on the album? 
Pam:  My favorite lyric would have to be in the song "Closer to You": "Oh I live to know the One who died to be with me. ..." This lyric makes me feel so special because it says that Jesus -- my Savior -- wanted me to spend eternity with Him so badly that He actually stepped down from the right hand of God and came to earth to die a criminal's death on a cross. And because He saved me from my sin, I can live every day for Him, drawing closer to Him.
Christine:  My favorite would have to be in the song "Alive": "The tomb was empty that glorious morn/ because of Jesus the curtain was torn/ not even death could overcome/ the Son of God the risen One." The place where the curtain in the temple hung tore in two, signifying that in order to come to God for forgiveness, we can come as we are because we are covered by the blood of Jesus; our perfect sacrifice. Also to know that we do not have to be afraid of death because Jesus has already died and has overcome Satan's grasp on life.

© 2005 CCM Magazine.  All rights reserved.  Used with permission.   Click here to subscribe.