Ones to Watch: Casting Pearls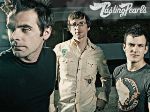 Some bands may have two guitarists, but in Bryan Olesen's case, the guitarist has two bands – Newsboys and Casting Pearls. While he's been with Newsboys since the fall of 2003, he actually co-founded Casting Pearls, which also features bassist Case Maranville and drummer Scott Rutz, in 1997. Olesen also handles lead vocal duties for the modern rock trio which hails from Nebraska. Casting Pearls spent years gigging relentlessly and honing its songwriting and performance skills before catching the attention of Inpop Records. The band's self-titled label debut hit stores in August.
Paul:  How did running into the bald guy from Newsboys change things for you?
Brian:  At first, Peter Furler and I talked about his interest in our band for Inpop Records. Then one day I get this call from him asking if I could play guitar and fill in for Jody Davis because he was not able to make the upcoming tour, which started in less than a week, I might add. In a matter of a few days, I was on a plane heading to Tennessee with the full blessing and support of my wife, church and the guys in Casting Pearls. God took this guy with a wife and kids living in Nebraska and put him in one of the most successful bands in Christian music. Now He has allowed for Casting Pearls to release this record. It has truly been amazing, and I'd be a fool to attempt to take credit for any of it.
Paul:  What is your current single "Alright" about?
Brian:  As a believer in Christ, no one can take your salvation from you. The words of this song echo a truth that also can't be taken away: Everything is going to be alright. Now for some, maybe you are seeking relief, and that relief is just around the corner – maybe it's today, maybe it's tomorrow. Some may have to wait for eternity for everything to truly be alright. Remember this life is a mere blip compared to eternity. You may live a life that to the world would look far from blessed. But if you have Christ, you are blessed beyond measure.
Paul:  You have said that you want to connect with your audience on the deepest spiritual level. How does Casting Pearls go about that?
Brian:  My pursuit is to seek God with all I have because that will flesh itself out in everything else I do. If I can do that and be the best husband and father I can, then whatever connection I have with our audience will come from success in those pursuits. If I'm truly living and pursuing Jesus, our audience will have a spiritual connection to us and our music.

 

© 2005 CCM Magazine.  All rights reserved.  Used with permission.   Click here to subscribe.