Ones to Watch: Edison Glass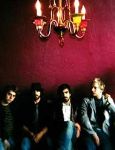 The moniker "Edison Glass" is a combination of the last name of a famous American inventor (Thomas Edison) and the last name of an eclectic modern composer (Philip Glass).
There is an air of mystery and intrigue that surrounds this band that seems quite natural and not the least bit pretentious. The music is uplifting and refreshing and, as you might imagine, loaded with meaning. After seven years of constant writing, recording and playing, Edison Glass – featuring Joshua Silverberg (vocals/guitar), James Usher (guitar) and brothers Joe (drums) and Mountain (vocals/bass) Morin – recently released its debut album, "A Burn or a Shiver," on Credential Recordings. For more information, check out edisonglass.com.
Paul Colman: How is God portrayed through your art?
James Usher: We strive for creativity, innovation and beauty in our music, and we feel that speaks of God's inspiration. In our lyrics we try to be honest about how we see God in our lives.
Paul: What are the differences between your record and your live show?
Joshua Silverberg: Every show is a unique experience. There are often moments when I feel prompted to share by talking to the audience or singing something spontaneous. For example, at the end of "When All We Have Is Taken," we leave the last few minutes for something special to happen. It's the part of the show where I close my eyes and just listen to what I think needs to be sung or played. For us, it is truly a worshipful experience.
Paul: What's "A Burn or a Shiver" all about?
James: The title, "A Burn or a Shiver," attempts to explain the feeling of a supernatural experience by describing it with the natural senses.
Paul: What's your current favorite song on your new record?
Joshua: It's impossible for the band as a whole to answer this question, but "The River" is one of our favorites. We love it because it keeps us aware that we should not stay stagnant in our walks with God. I think the line from the song that explains it best is, "Shall I settle for a quick rain or search for the source?"


© 2006 CCM Magazine. All rights reserved. Used with permission. Click here to subscribe.


You can watch Edison Glass music videos at Godtube.com!