Ones to Watch: Eleventyseven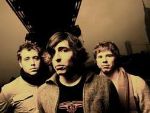 Eleventyseven, which hails from Greenville, South Carolina, has been cranking out its hyperactive punk pop music for nearly four years. The band's label debut, "And the Land of Fake Believe," which released last month on Flicker Records, is original, evocative and always fun.
Eleventyseven – featuring Matt Langston (vocals/guitar/synth), Caleb Satterfield (bass) and Jonathan Stephens (drums) – spent the early part of 2006 on the road with Superchick, Seven Day Slumber and KJ-52. Check out eleventysevenrock.com for more information.
Paul:  What do you want people to get from your shows? 
Matt:  We want people to come away from our set with a feeling of joy. We hope they will forget about their problems for a little while and just enjoy being with other people who aren't judging whether they're "scene" enough or "punk" or "Christian" enough.
Paul:  If a fan asked you after a show to describe your relationship with God, what would you say?
Matt:  My faith is very practical and down to earth. I've never had any amazingly spiritual, mushy, Christian-y feeling inside to accompany my faith. God has always met me exactly where I am in very practical ways. My faith and trust in the Lord is what gives my life its purpose and meaning. It's about modeling integrity when it's difficult and unpopular to do so. It's about standing up for what is right no matter how the world justifies its actions.
Paul:  Tell us about the song "More Than a Revolution."
Matt:  Many bands and churches have songs or programs that incite a false sense of revolution in impressionable kids. If their intentions are dishonorable, it shows. "More Than a Revolution" encourages listeners to look past the hype and see that real revolution starts with one person at a time. It's in the way you treat your friends or spouse when they've wronged you. It's in how much you tip your waitress, how often you hold your tongue, and how willing you are to encourage your family instead of tearing them down.


© 2006 CCM Magazine.  All rights reserved.  Used with permission.   Click here to subscribe.