Ones to Watch: Fair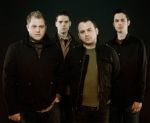 Fair's web site describes its style as "indie/rock" from Seattle.

Featuring prominent musician/producer Aaron Sprinkle's heartfelt and lively vocals, Erick Newbill on guitars, Joey Sanchez on drums and Nick Barber on bass, Fair is sure to connect with any listener who appreciates well-crafted melodies and dynamic rock. Its debut album on Tooth & Nail Records is called "The Best Worst-Case Scenario" and hit stores this past summer. Check out fairforever.com for more info.
Paul Colman:  Do you feel Fair is an evolution from your past projects like Poor Old Lu and your solo music, or does Fair stand out as an entity all its own?
Aaron Sprinkle:  In some ways I see it as both. Fair is more what I've been wanting to do since breaking away from Poor Old Lu, but is the first really collaborative thing I've done since.
Paul:  Now that you're a full-time producer for such big-name artists (Jeremy Camp, Hawk Nelson), how did you have time to record with Fair; and how will you have time to tour?
Aaron:  It took us almost a year off and on to record this record. Touring is another question. …We are doing a really short tour with Eisley this month. After that, it'll be mainly spot dates. We hope to do another run before the end of the year.
Paul:  Have the artists you've worked with in the studio affected or inspired you in any way with the writing of the new Fair album? 
Aaron:  Definitely. This is the first full-length album I've put out in five years. I don't think it would have turned out the same if I hadn't been working with so many great bands over that period of time.
Paul:  What do you hope listeners will take away from Fair, lyrically and musically? Was there a theme with the album you'd like them to take?
Aaron:  The whole record has a tension between extreme fear and glimmers of hope. ... We went into the studio with barely any material written – just lots of small ideas. The great thing was that the first new song ("Monday") came quickly, and we fell in love with it. We put it first on the album for that reason. But even after that initial success, there was a feeling of, "Can we do that again?"... Lyrically, that fragility comes through in every song. We definitely felt something bigger than ourselves holding the process together. We hope listeners will be able to feel the chill of October and November when we were recording and hear us being scared, hopeful, torn, in love and joyful.


© 2006 CCM Magazine.  All rights reserved.  Used with permission.   Click here to subscribe.