Ones to Watch: Hyper Static Union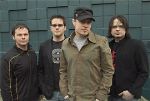 Hyper Static Union – comprised of Shawn Lewis (vocals/guitar), Ray Burnham (drums), Bryan Albrechtson (guitar) and Mike Jackson (bass) – is a modern rock/pop/soul/funk outfit from the northwestern United States.
The band's label debut recording, "Lifegiver," which released May 9, was produced by Third Day's Mac Powell and is the first release on Rocketown's new modern rock imprint, RKT Music. While praising the band as a whole, Powell recently singled out Hyper Static Union's front man, Shawn Lewis, saying he "is hands down the most talented guy I know." See hyperstaticunion.com for more information.
Paul:  What sets Hyper Static Union's music apart from other artists?
Shawn:  We err on the side of funk. We are a rock band with soul, jazz and funk influences. …I think funk music influences pretty much everyone to some degree, but we really try to pay that medium homage as much as we can within the realms of an accessible rock song.
Paul:  How do you combine your faith and your art? 
Shawn:  I think it's better for us as a band to answer that question with another question: How do we combine our faith and our lives? Well, if the Good News is truly good – and it is – it should be effervescing from our soul no matter what line of work we're in, no matter whose house we visit, no matter what party we stumble onto and so on. We sing about Jesus Christ because His death and resurrection are the most important things that happened to us. I'm not going to say that I'll never pen a song about my love for my wife, or friends who recently died, or cartoons getting saved or whatever. I'm simply saying that God's hand is evident in all aspects of our lives, so the field is wide open to me.
Paul:  What's Mac Powell like as a producer?
Shawn:  He's pretty much the ultimate producer. He has that unique ability to let the band be themselves but also to challenge the band to be the best "them" they can be. He's all about "trimming the fat." He's a man who likes his steaks lean as well as his rock songs. If there's a part in the tune that takes up time and is border line unnecessary, he taught us that it's better to cut it out and see if you miss it or not. You'll never be able to record a seven-minute epic, progressive rock tune with Mac at the helm, which is probably good for all our sakes. He just has a keen awareness of his audience, and that came in really handy for us.


© 2006 CCM Magazine.  All rights reserved.  Used with permission.   Click here to subscribe.