Ones to Watch: Red Umbrella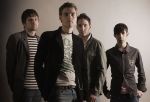 Red Umbrella – featuring lead singer/guitarist Jeremy Michaelis, keyboardist/guitarist Dennis Michaelis, drummer Jason Rosewell and bassist Kevin Swartwood – is from the small town of Parry Sound in Ontario, Canada.
Simply put, they are one of the best young bands I have ever seen. They are creative, funny and very talented and have the undercurrent of God's love permeating through their music. Red Umbrella's new record, "Wishing For Boardwalk" (7Spin), is a wonderful collection of songs and sounds.
If my gushing is not enough to make you check out this band, just imagine The Beatles, Coldplay and The Killers infused with added originality and class, and you have Red Umbrella. Actually, scrub that. They are their own thing completely. Be sure to check out redumbrella.net.
Paul:  Did you know that I am a Red Umbrella fan?
Jeremy:  Yes! The autographed T[-shirt] is in the mail.
Paul:  How do you guys write your songs? Explain the process.
Jeremy:  Musically, the album was mostly written live in our underground lair. We love playing together and working parts out on the fly. Sometimes it's more fun to do it that way than to sit around and debate the benefits of one chord over another. Once we have some pieces that we all like, we pull the structure together and record it live. We often listen back to pieces and see how they come across through the studio monitors; sometimes they change in tones and colors from the live sound to recorded medium, which can be good.
Paul:  Is there any dominant theme that has emerged on your new album Wishing for Boardwalk? 
Jeremy:  The idea of wishing. I think that's why we went with the title. "Boardwalk" symbolizes the best things that people long for; but to find these things and possess them is not to find objective fulfillment. It is a sham. Without God, things become meaningless and vain. C.S. Lewis said that, if we do indeed have longings that cannot be filled with the natural, then the most logical thought is to look for fulfillment in supernatural things.
Paul:  I think you guys would go over really well in Europe. Have you got any plans? Want me to make some calls? (laughs) 
Jeremy:  You certainly are welcome to make calls. Kevin, our bass player, is quite a fan of playing in Europe. I think we all would love to go at some point. Let's work something out!



© 2006 CCM Magazine.  All rights reserved.  Used with permission.   Click here to subscribe.