Ones to Watch: Rhythm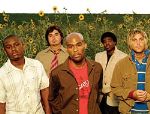 Rhythm is a pop/rock/R&B/funk band from Dallas, Texas, featuring drummer Mace, bassist Droo, lead singer/keyboardist Reggie, guitarist Eric and vocalist/trombone player Tymm.
After 10 years of writing, recording and touring stateside and abroad as an independent act, Rhythm signed a record deal with EMG/Lightyear. The resulting album, "The Forward Concept,"  which released in late September, carries a positive message of joy and forgiveness set against a backdrop of God's redemptive love.
Paul:  How long has Rhythm been together, and how many dates a year has the band been doing?
Reggie:  Our first show was in October of 1991, and we've been going strong ever since. Because we do over 140 shows a year, you may ask, "Are you tired yet?" The answer to that is, "Nope."
Paul:  Tell us how the label signing happened after the band was independent for quite a long time.  
Reggie:  Like many young bands, we were hoping to be signed within five years, but that wasn't the case. Contentment – this was the attitude that carried us forward. After so many years we didn't see our careers moving ahead.  And, at the time, we didn't know why. We were being told by the industry, "You're too diverse" or "You don't have radio songs." After a while, you start believing that you're not built for the music industry. We've known our A&R for some time.  And after hearing our latest songs, spending long hours in meetings, discussing our marketing and spending many hours in prayer, the label was ready to take a chance on us.
Paul:  What is "the forward concept"?
Reggie:  It's a blueprint for a new day. We feel that these songs pen out how we made it through the tough times: disappointment, frustration, anticipation, excitement and joy. Some of the songs are metaphorical, but every song ends with redemption.

© 2005 CCM Magazine.  All rights reserved.  Used with permission.   Click here to subscribe.