Ones to Watch: Sarah Brendel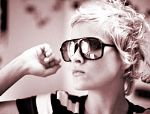 Singer/songwriter Sarah Brendel was born and bred in Germany, where she's achieved something very few European artists have: gaining prominence in the mainstream market while approaching her art from a distinctly Christian perspective. Her debut for Inpop Records, titled "Under the Fire," released this past summer to rave reviews. Sarah brings a genuinely unique and Christ-centered perspective, and her record is a wonderful blend of introspective art and outbursts of worship.
Paul:  How are you finding living and performing in America?
Sarah:  Living in America is really cool, especially here in Nashville, where nearly everybody makes music. All the creativity that's going on here makes me creative too. Americans are at most times more positive in their thinking than many Germans. That makes it easy for me to perform here because I get such nice feedback, and people make me feel so welcome.
Paul:  Like me, you're a big Larry Norman fan. Is he the reason you started writing songs?
Sarah:  Yes, he is one reason. Shortly after I met Jesus, I started listening to Larry Norman's music; and it spoke to me in a deep way. I got the longing to sing about God and to tell everybody that Jesus is the only way. That's how it started.
Paul:  Tell us about the single "Fire" from your new CD. What was the inspiration behind it?
Sarah:  When I began writing "Fire," I started with the line "More of you and less of me" – those are the key words of the song. My biggest goal is to be changed into the image of love, into the image of God.
Paul:  How did you get onto Viva [Germany's MTV]?
Sarah:  In Germany, friends of mine started a project called "Zeichen der Zeit" and asked me if I would like to join it. We produced two songs together and got to the Top 10 of the German mainstream charts. Viva was interested and played our music video day by day.

© 2005 CCM Magazine.  All rights reserved.  Used with permission.   Click here to subscribe.