Ones to Watch: Spur58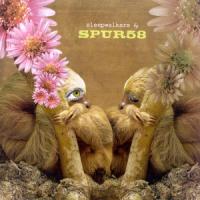 Spur58 is a five-piece band from Houston, Texas, featuring lead singer Aaron Ivey, guitarists Jimmie Ingram and Chad Martin, bassist Steven Bush and drummer Guy Roberts. Spur58's national debut album, "Sleepwalkers" (Indelible), which released in the fall, was produced by Paul Mills (Jason Morant, Lincoln Brewster, Among Thorns). The band combines melodic guitar and piano driven pop/rock with honest, accessible lyrics.
Spur58 says that its "heart is leading worship, but that doesn't always mean getting people to sing along." Check out more about this band at spur58.com and myspace.com/spur58.
Paul: Tell us about the band name.
Aaron: Well, we didn't have a band name for a long time. We just couldn't think of anything that didn't sound lame! So one day, a friend and I were driving in Sugar Land, Texas (our hometown), and noticed we were on a street called Spur58. The rest is history.
Paul: How does Spur58 lead worship?
Aaron: As a band, we really want people to be a part of corporate worship experiences. But we also desire people to leave a concert with this mindset: God is more interested in how we live our lives than the songs that we sing. As worship leaders, we want to encourage people to make a literal connection between songs that we sing as worshipers and the day-to-day life that we live. If our worship is solely based on singing songs, we have missed the mark of being a true biblical worshiper. We hope that the songs on this record inspire both the outward corporate worship experience and the inner worship experience that take place in each of us every day.
Paul: Tell us about your record, "Sleepwalkers." What's it all about?
Aaron: The record is a plea to followers of Christ to be all that He has created us to be. I have a friend named Cody who is a real-life sleepwalker. In the middle of the night, he gets up and walks around with no clue what he's done the next morning. I thought about how this relates to us as humans so many times. We are so focused on our own agendas, dreams and goals that we miss life all around us. We are numb to love, calloused to pain and alive — but not in love. We get so caught up in ourselves sometimes we miss out on being the light of the world. The record asks people to wake up and notice life … notice pain, notice love, notice joy and notice people.


© 2006 CCM Magazine. All rights reserved. Used with permission. Click here to subscribe.