Ones to Watch: The Longing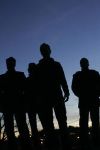 The Longing is an authentic worship band led by well-known singer/songwriter Jason Ingram, whose songs have been recorded by artists including Rebecca St. James, Building 429, Joy Williams and Point Of Grace.
Joining Ingram are band members David May (guitar), Jono Brymer (bass) and Matt King (drums). I can honestly say that this record has touched my soul deeply. Ingram is a master songwriter and a fabulous singer; but even more than that, The Longing is a wonderfully genuine expression of sincere worship.
The self-titled record has had a thrashing on my iPod, and it has drawn me closer to God. The Longing's debut was released in May by Indelible Creative Group and was produced, alongside Jason Ingram, by Dove Award-winner and GRAMMY Award- nominee Tom Laune. Check out thelongingmusic.com.
Paul:  What's behind the band's name?
Jason:  Whether we know it or not, we all worship something. We were designed to be worshippers and will only be fulfilled when the object of our worship is God. The deep longing of our hearts is to live in a relationship with our Father in heaven. "The Longing," for me, describes the desperate I have to worship my King.
Paul:  What is a Longing live show like? Is it like a worship time or a pop performance?
Jason:  Well, we are definitely a worship band, but we really put a lot of emphasis on beauty. Our art and our hearts ought to, in some very small way, be a reflection of the One we worship. The band members all came to The Longing from well-known artists and bands and have spent many years playing professionally, so I kind of feel like I've been blessed with the dream team.
Paul:  Do the songs on the record form a particular theme?
Jason:  The songs have different themes, but there is certainly an undercurrent of brokenness that weaves through the album. Every time I write a worship song, I become so aware of the greatness of the One to whom I am singing; and I become equally aware of my unworthiness. Who are we that the King of Kings and Lord of Lords lends an ear to our song?  If I have anything at all to offer as a worship leader, it is only that I realize I can't do it. Somehow in our weakness and brokenness God is most glorified. He is the object of our worship, and He is the means by which we worship. That is why our praise is so rich, our love so fulfilled, our eternal life so now.


© 2006 CCM Magazine.  All rights reserved.  Used with permission.   Click here to subscribe.