Ones to Watch: The Myriad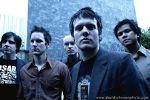 The Myriad signed to Floodgate Records in 2004 on the band's three-year anniversary, after an inspired set at Cornerstone Festival. Comprised of guitarist/keyboardist Steven Tracy, vocalist/guitarist Jeremy Edwardson, guitarist Jonathan Young, drummer Scott Davis and bassist John Schofield, The Myriad is an atmospheric, all-democratic, melody-fused modern rock & roll act.
After The Myriad released a number of independent projects, its label debut, "You Can't Trust a Ladder," hit stores earlier this year, cleverly and artistically revealing the band's Christian beliefs in a way that can satisfy the believer and the interest of the seeker.
Paul:  I'm intrigued by your album's title. Why can't you trust a ladder?
Steven:  The title of the album is a metaphor for a recurring theme about avoiding shortcuts and really embracing the process. With current culture being offered so many forms of anesthetics – be it medication or television – the idea is that the way out is "around" not "through." [But going through it] is where true growth and life exists.
Paul:  You were touring nationally before you had a record deal and an agent. Did you handle all that yourselves? 
Steven:  Yeah, for the better part of three years we did all of our own booking, publicity, recording and management. We're happy to have handed it off to those more capable than ourselves. It has left us with the proper time for the music which, ultimately, is what we care most about. We've already started writing for the next record.
Paul:  Your record is wonderfully eclectic and the songs are really strong. How did you work at developing your own sound?  
Steven:  Well, there are five of us, and I'd say that a large part of our sound has come from the natural friction that comes with putting five strong personalities in the same room. Someone typically comes up with a starting point, whether it's a lyrical idea, chord progression or melody. From there we usually end up writing and re-writing the song over and over until some "chill bumps" happen. Sometimes it's quick, and other times it's more laborious. Either way, it's a remarkable thing when it hits; we all know it, and then we just fine-tune it from there. Our sound has evolved from living out that process over and over.

© 2005 CCM Magazine.  All rights reserved.  Used with permission.   Click here to subscribe.