Ones to Watch: This Beautiful Republic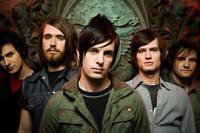 This Beautiful Republic from Toledo, Ohio, sounds as big as its name suggests it should! Comprised of Ben Olin (lead vocals), Adam Smith (guitar), Andrew Smith (drums), Brandon Paxton (bass) and Jeremy Kunkle (guitar), the band has a big sound with big songs.
This Beautiful Republic signed to Forefront Records last fall; and its debut recording, Even Heroes Need a Parachute, released worldwide last month. "Jesus to the World" is the band's first single. To hear this very cool song and enter the world of This Beautiful Republic, visit myspace.com/thisbeautifulrepublic.
Paul: There seems to be quite a buzz about This Beautiful Republic. How does that make you feel?
Ben: Is there? Seriously, it makes us feel really great that people are receiving our music so well. There are so many tremendous bands out right now. I guess we're just really excited to see what happens in the next six months.
Paul: Love the name! Can you tell us a bit about it?
Ben: Sure! This Beautiful Republic is our way of describing the Kingdom of God. The name reminds us that we're all equals in the body of Christ, and that as equals we're working toward common goals. When we work together, we see incredible results.
Paul: Give us a sentence that describes the sound of TBR.
Ben: Simply put, we think it sounds like Silverchair rubbing shoulders with Jimmy Eat World.
Paul: How does the band write music?
Adam: Our songwriting process is very inclusive. We really value everyone's input, and we don't have one primary songwriter. The birth of each song is different. Sometimes we start with a melody or lyrical phrase, and, other times, we have music all ready to go, so we add melody and lyrics. It changes with each song.


© 2007 CCM Magazine. All rights reserved. Used with permission. Click here to subscribe.