Out of Eden Blazes More Trails on "Hymns"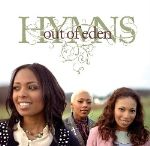 Artist:  Out of Eden
Title:  "Hymns"
Label:  Gotee
It's always a risk to venture into new creative territory as an artist, and it's not a luxury many can afford in today's unstable music industry climate.  But if a solid, decade-long career as R&B trailblazers in a predominantly vanilla-flavored, adult contemporary marketplace doesn't afford you the right to take a creative detour every once in a while, then what does?
Out of Eden siblings Lisa Kimmey, Danielle Kimmey and Andrea Baca are playing their "We-want-to-branch-out" card with the group's latest offering, "Hymns," on its longtime label Gotee Records. While perhaps the timing wasn't ideal with a slew of hymns projects releasing from other artists, Out of Eden has still managed to put its own artistic stamp on a collection of songs that remain personal to them.  Remember, this group of sisters grew up in the church listening to Christian music of all shapes, sizes and colors. 
On this project, Out of Eden has selected a mix of classics ("Be Still My Soul," "Fairest Lord Jesus") along with a few less popular titles ("My Faith Has Found a Resting Place," "God Will Take Care of You") and two originals ("Vision of Love," "Have Mercy"). For the very first time, all arranging and production duties were tackled solely by Lisa, who over the years has undoubtedly become one of the most overlooked, well-rounded female talents in the contemporary Christian music industry.
Album highlights include the anthemic worship phrasings of "Immortal, Invisible, God Only Wise" and the big majestic sound of "Praise to the Lord the Almighty," a superbly-orchestrated collaboration with Tree63 (with impressive vocals by lead singer/guitarist John Ellis).
It's always tough to tackle the lyrical weightiness of hymns and attempt to partner them with more contemporary musical styles.  And since Out of Eden simply excels at its usual R&B/pop fare, "Hymns" is not likely to be your favorite project from this trio.  But even so, it's a worthy effort from an innovative group who simply deserves the opportunity to try something new.  Blazing trails is, after all, what Out of Eden does so well. 

© 2005 CCM Magazine.  All rights reserved.  Used with permission.  Click here to subscribe.