Overflow's "A Better Place" Not a Bad Place to Visit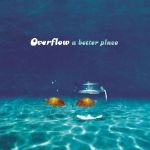 Artist:  Overflow
Title:  A Better Place
Label:  Essential
Although its debut release, "A Better Place," is soaked in pop-rock exuberance, far too much of Overflow's music is also overly familiar. For instance, the song "Better Place" by this South Carolina five-piece brings to mind a slightly harder rocking Steven Curtis Chapman as vocalist Tom Pellerin directs his lyrical attentions heavenward. To its credit, this outfit has its heart in the right place because many of these 10 tracks — all produced and co-written by NewSong's Scotty Wilbanks — flow warmly with emotional encouragement. But, ultimately, it's a valuable gift hidden by predictable, generic wrapping paper.
A few times, however, Overflow manages to break out of its shiny pop cage. Such an escape is exemplified by Pellerin's almost grunge-influenced vocals on the verses of "What's Missing." Then on "My Days Are Better," there is a tangible sense that the group is itching restlessly to bust out into a full-on and unbridled urban gospel stomp. But Overflow, seemingly, doesn't have the confidence yet to follow its natural instincts.
One can only imagine how good this album might have been if some of its excess studio gloss had been removed prior to release because Overflow's songwriting is consistently first rate. For example, "Come Home" is especially altar call-ready, and "Just for Me," enhanced by its lovely slide guitar part, draws positive comparisons to Delirious.
But when it's all said and done, it takes just a little too much imagination to truly appreciate what Overflow has done here.

© 2004 CCM Magazine.  All rights reserved.  Used with permission.  Click here to subscribe.