Passion Movement Vet Debuts with We Shine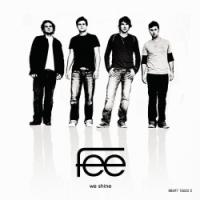 Artist: Fee
Title: We Shine
Label: INO
Modern rock worship band Fee has a lengthy, significant history leading up to its major label debut, We Shine. Bandleader Steve Fee has been a primary leader in the Passion movement since its inception, and the band serves as artists-in-residence at one of the fastest-growing churches in the nation.
On We Shine, Fee introduces 12 original worship songs that demonstrates the band's great ability to blend simple, significant, passionate lyrics to various energetic and appropriate rock sounds. The result is a bit surprising in that the tone from top to bottom resonates with an innate feeling of freedom and victory—from album openers "All Because of Jesus" and "Burn for You" down through "Faithful." Raucous numbers "We Shine" and "Broadcast" translate into jumping crowds, while "Grace Will Be My Song" and "Beautiful the Blood" escalate with powerful confessions to Christ.
Fee and We Shine resemble Chris Tomlin or David Crowder Band at times, which, first, shouldn't be surprising considering the Passion connection and similar modern rock leanings, and, second, is not a complete turn-off as Tomlin and DCB are beloved for what they do. Overall, We Shine is worth owning when an upbeat reminder of God's ultimate victory is needed.




© 2007 CCM Magazine. All rights reserved. Used with permission. Click here to try a free issue.

Check out Fee music videos at Godtube.com!