Paul Baloche Employs Songwriter Talent on "A Greater Song"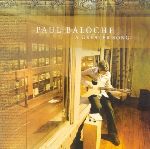 Artist:  Paul Baloche
Title:  "A Greater Song"
Label:  Integrity Gospel
The greatest and most prominent statement is rarely ever spoken. It's well known that the things you do and the activities that you pursue tell far more about your actual character than anything you might say throughout your lifetime.

As the Bible says, your treasure – what is most valuable to you – is with your heart or the passions you follow and the priorities you set in life. This principal applies directly to our spiritual lives as well. We may be the loudest and most energetic singers in the praise choir, but if our lives don't reflect that enthusiasm or dedication, then we're simply making noise.
The name Paul Baloche may ring a bell if you pay attention to the credits and/or liner notes that come with CDs. Having written or co-written songs for and with the likes of Michael W Smith, Sonicflood and more, Baloche moves from byline to headline with the release of "A Greater Song," an album that puts listeners into a posture of praise with focused lyrics and very accessible melodies. The title track, co-written by Baloche and Matt Redman, explains that our very lives should be the song that sings our praise to God and not just an actual chorus. This sentiment recurs throughout the album in songs such as "You Have Been So Good" and "What Can I Do."
Recorded at Community Christian Fellowship in Lindale, Texas, where Baloche has served as worship pastor for more than 15 years, "A Greater Song" offers a live feel that invites listeners to join in and worship along with each song. Not surprisingly, the album fits right in line with the likes of other modern worship powerhouses such as Matt Redman and Brenton Brown, both contributors to the album. The choruses are easy enough to pick up quickly and, for the most part, work well as a solo or in the corporate environment, giving the album a comfortable feel.
Overall, fans of modern worship will most likely find themselves caught up in this release. "A Greater Song" somehow feels familiar and fresh at the same time, offering pointed and purposeful worship choruses well worth singing. Paul Baloche proves once again that he's a talented songwriter and worship leader.


© 2006 CMCentral.com.  All rights reserved.  Used with permission. 

Visit CMCentral.com now and join the single largest online community of Christian music fans on the internet.  CMCentral features  daily music news, exclusive interviews, album reviews, weekly devotions and feature articles written by some of your favorite Christian artists, and much more.  CMCentral is also the home of the most popular Forum for Christian music fans that you'll find anywhere on the Internet.  Come see what all the buzz is about!