PFR Makes Latest Comeback on "The Bookhouse Recordings"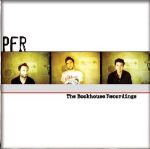 Artist:  PFR
Title:  "The Bookhouse Recordings"
Label:  Fuseic
Keeping up with the on-again/off-again status of Beatlesque trio PFR has been a challenge in recent years. After calling it quits in 1997, the band resurfaced in 2000 to contribute to the "Roaring Lambs" compilation, and subsequently released the full-length studio project "Disappear" in 2001.
Now, some three years later, the band unveils its latest comeback disc, "The Bookhouse Recordings," a self-produced effort distributed exclusively by Family Christian Stores. The culmination of a whirlwind recording session at drummer Mark Nash's in-home studio, the set features seven reworked selections from the band's 1990's catalog, plus three new songs.
One wonders why PFR decided to refurbish some of its classic tunes. The band's press kit suggests the guys wanted to "give new life" to old songs. Lead vocalist Joel Hanson calls it "re-juicing." While it's certainly ambitious to release modern interpretations, is it really possible to significantly improve signature cuts like "Wonder Why" and "That Kind of Love"?
In fairness, revamped tracks "Last Breath" and "Anything" possess a blithe acoustic appeal, not unlike something Coldplay might dish up. Such interpolations might resonate well in a VH1 "Unplugged" atmosphere.
Even so, other remakes come off sounding feeble — and sometimes downright humdrum. Mid-tempo homogeny relegates "Pray for Rain" and "Dying Man" to "skip button" status, while omnichord-infused "Great Lengths" could well be a B-side track for The Elms.
The bright side is the new material — an original song from each member. The finest of these is Nash's up-tempo "Prayer for Beslan," a poignant entreaty for those affected by last fall's tragic school siege in Russia. Patrick Andrew's "Home" emits a satisfying acoustic homage to domestic life, while Hanson's piano-driven ballad about self-discovery, "In the Middle," rounds out the disc. These songs all prove PFR can still deliver fresh goods, even if it's only a handful this time around. 

© 2005 CCM Magazine.  All rights reserved.  Used with permission.  Click here to subscribe.