Phillips, Craig & Dean Still Relevant With Latest Disc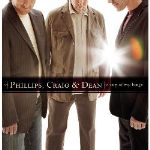 Artist:  Phillips, Craig & Dean
Title:  "Top of My Lungs"
Label:  INO
Having racked up 18 No. 1 radio hits, surpassing two million albums sold and packing out concerts nationwide, Phillips, Craig & Dean has spawned a largely illustrious career, especially for part-timers.
For Randy Phillips, Shawn Craig and Dan Dean, three full-time pastors who happen to possess golden throats, their latest offering, "Top of My Lungs," serves as a fitting release. Though having recorded nearly a dozen records over the past 15 years, the threesome's most recent worship trilogy has comprised the majority of its sales success. Musically, "Top of My Lungs" is equally impressive.
Copiously made up of worship tunes, the pop gem showcases the latest and greatest contributions of the modern church. Thanks to producer Nathan Nockels (Point of Grace, Downhere), a praise & worship guru all his own, the record is originally current, albeit formulaic, proving the men of PC&D (each nearing 50) and the songs of the church possess a relevant reach.
All 10 tracks hold their own in an uncharacteristically aggressive, yet sufficiently believable, set. Hosting such current favorites as Hillsong's "One Way" and Paul Baloche's "Your Name," it is the Michael Neale penned "You Saved the Day" that peaks the Phillips, Craig & Dean performance. Assembling the group's quintessential powerhouse vocals and Nockels-infused passion, the ballad of epic proportions begs a repeat listen.
Sparse piano and string accompaniment surrounds a genuinely stirring lyric in Jared Anderson's beautifully simple "Amazed": "You dance over me/ While I am unaware/ You sing all around/ But I never hear the sound/ Lord, I'm amazed by You." And the bonus track – and famous hymn – "'Tis So Sweet" is especially charming, featuring its own rivaling musicians, the men's teenage children.
Repeated lyrics, though felicitous in worship music as a genre, tend to harass songs with routine expressions, the only stumbling block to an otherwise truly
satisfying disc from one of Christian music's timeless trios.
 


© 2006 CCM Magazine.  All rights reserved.  Used with permission.   Click here to subscribe.