Pioneering Metal-With-a-Message Band "Reborn" After 15 Years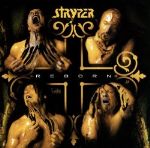 Artist:  Stryper
Title:  "Reborn"
Label:  Big3 Records
This is a flash forward, not backward, as Stryper is reborn with original members Michael Sweet (vocals, guitar), Robert Sweet (drums) and Oz Fox (guitar), welcoming former Whitecross bassist Tracy Ferrie in lieu of the beloved Tim Gaines.
Believe it or not, it's been 15 years since the pioneering metal band released a full-length CD of new material – 1990's "Against the Law" (Enigma/ Hollywood). After disbanding in the early '90s for several years, Stryper reappeared occasionally both on stage and on random CD compilations and side projects. But now we have 11 tracks – 10 new songs – as the men try to squeeze back into their spandex (Actually, only Robert can still wear them as he did when Stryper played 2001's Cornerstone Festival.), shred out some serious rock & roll and show the younguns how to do "metal with a message."
Indeed, many of today's bands have freedom to rock the flock thanks to Stryper paving the way.
Loyal fans, as you put Reborn on your turntable – I mean your iPod – it might take a few songs to encounter the breed of metal you so affectionately remember. Think of the raw "Yellow and Black Attack" merging with the polish of "In God We Trust." The first four tracks – "Open Your Eyes," "Reborn," "When Did I See You Cry" and "Make You Mine" – sound like Stryper had Disciple or Galactic Cowboys lend a hand, which isn't bad, just not the Stryper we knew and loved. These tracks also reveal some of the limitations of home studio recording and production, and a smaller drum kit for Robert. And in a few places, Michael sounds tired of getting the metal edge back in his voice. But don't jump to conclusions prematurely – there is plenty of banging, thrashing and metal sparks  from these grinding axes.
Any doubts about Stryper's rebirth are blown away by "Passion," a very moving spiritual track that affirms the band members' faith and vision. It will take you back to classic Stryper power ballads such as "First Love" and "Reach Out." Musically, most of the album's tracks hit high on the rock meter, with the walkers flung into the air via its closer, an updated version of "In God We Trust." Are you ready for Michael Sweet at full volume? Here are the screaming vocals you were sure put the devil on the run to you-know-where.
All told, the "reborn" version of Stryper will have you rocking and singing along. There's less glam and more filling in this matured metal for the masses, and the band's clarion message remains loud and clear:  Salvation Through Redemption Yielding Peace Encouragement and Righteousness.

© 2005 CCM Magazine.  All rights reserved.  Used with permission.  Click here to subscribe.