Plumb's Never Sounded Better on "Chaotic Resolve"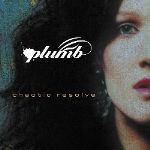 Artist: Plumb
Title: "Chaotic Resolve"
Label: Curb
Plumb, aka Tiffany Arbuckle Lee, has often been compared to bands such as Garbage, The Benjamin Gate and The Cranberries. On her latest release, "Chaotic Resolve," Plumb has definitely come into her own. There are still vocal and stylistic comparisons to be made to each of those bands, but her voice and songwriting have matured into a unique overall sound that makes this her best record yet.
Kudos to producer and writing partner Matt Bronleewe (Jars of Clay, Natalie Imbruglia) for helping to expand Plumb's musical pallet with lush production highlighted by real piano and elaborate string arrangements that were recorded in Prague. Plumb has always used loops, samples and quirky production, but it's never been put together this cohesively and blended this well. Songs such as "I Can't Do This" and "Good Behavior" are full of well-crafted keyboards, loops, piano and crunchy guitars that will rock and move you. Then she shows off her mellow side with what's sure to be a fan fave, the hauntingly beautiful "Jekyll and Hyde," a song that also has hints of Suzanne Vega, one of Plumb's main writing influences.
Enjoying this newfound diversity, Plumb beats Gwen Stefani at her own game with the funky dance rock of "Motion." This is a perfect song for a mainstream video and single at some point. The current single, "Better," is also the album's best song – it's powerful, it rocks, it's got a hook and it should be huge. Lyrically it's also the standout track with emotionally bare lines such as "And you say all the things that you'd never meant to say/ and try to break me/ but in the end what leaves you broken/ in the end makes you better."
Tiffany's writing seems to have matured by leaps and bounds since her earlier albums. There is a lot going on here, mostly dealing with relationships with her husband, friends and God, singing "I want to be in love with only you/ wanna watch the sky turn grey then blue" in the hooky "Blush," one of her best pop tunes yet.
Still, the most appealing thing about ""Chaotic Resolve" is Tiffany's voice. It's never sounded better, and that's saying something. It has the haunting beauty of a Sarah McLachlan or a Leigh Nash while maintaining that strong rock vocal that she's known for. In a landscape full of female vocalists and female fronted rock bands, Plumb is the real deal.

© 2006 CCM Magazine. All rights reserved. Used with permission. Click here to subscribe.





Don't forget to check out Plumb music videos at Godtube.com.