Pop Goes Yellow Cavalier on Self-Titled EP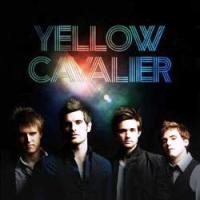 Artist: Yellow Cavalier
Title: Yellow Cavalier
Label: InSound Productions
Vocal foursome fills a void with mature pop output …
Some semblance of boy bands has been around for decades. Even pre-Top 40 radio, gaggles of women (and men) flocked to Big Band halls, joining the mainly male entourage as they lit up the stage with choreographed sways, dazzling horn hits and wide smiles. And gospel music has seen its share of all-male outfits hit sweet spots across the nation as well. But ever since Plus One led a straight-up pop explosion almost 10 years ago, the Christian music scene has yet to see any all-out vocal teams take up the torch. Until now.
More pop, less rock, Yellow Cavalier is filling the void. With a dazzling debut EP, the tidy quartet is marketing themselves as not just an answer to the boy band drought, but rather an active response to a rich legacy of "ccm" pop/rock.
Citing One Republic, Daniel Bedingfield and dcTalk as major influences (you could add Maroon 5, The Killers and Family Force 5), the fab four draw from an array of mature musical tastes to venture beyond bubblegum pop. Sure, one or two of the fellas whine when crooning and the production is unashamedly slick, but skin-tight vocals, spectacular synthesizers, thumping bass and dance floor-pumping beats round out a highly accessible mix, grooming the Lynchburg, Va., natives for mass-market appeal. Most notably, "So Beautiful," an ode to a woman's enduring beauty, aligns striking acoustic elements to reminisce early Bebo Norman tracks.
On tour backed by a live band, the boys are spreading a message of surrender to God with upfront performances designed to breed face-to-face fan loyalty. Though hints of "boy band" abound, I suggest dropping the moniker and considering Yellow Cavalier a band. And a good one at that.


© 2009 CMCentral.com. All rights reserved. Used with permission.




Visit CMCentral.com now and join the single largest online community of Christian music fans on the internet. CMCentral features daily music news, exclusive interviews, album reviews, weekly devotions and feature articles written by some of your favorite Christian artists, and much more. CMCentral is also the home of the most popular Forum for Christian music fans that you'll find anywhere on the Internet. Come see what all the buzz is about!

**This review first published on June 9, 2009.