Pop Takes a Turn on "I See Things Upside Down"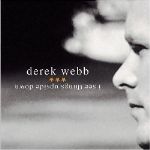 Artist: Derek Webb
Title: "I See Things Upside Down"
Label: INO
Never one to mince words or fashion a spiritual, "feel good" project, singer/songwriter Derek Webb brings his A-game to the arena on "I See Things Upside Down." Delivering his most compelling set to date, the Caedmon's Call alumnus follows up the recent live recording "The House Show" with his second studio release.
Passionate vocals, cut-to-the-quick lyrics and rich yet stripped-down rhythms buttress one of this year's most inventive solo records. And while "I See Things Upside Down" is not a concept album per se, it frequently reveals an artist whose take on Christian values is forthright and convicting.
Fittingly, Webb indicts himself and others for misguided attitudes and actions. On the song "T-Shirts," he delivers this pointed discourse: "They'll know us by the t-shirts that we wear/ they'll know us by the way we point and stare … they'll know us by our picket lines and signs/ they'll know us by the pride we hide behind." Admonition continues on "Ballad in Plain Red," where Webb rails against bumper-sticker brand Christianity (" … just keep selling truth in candy bars/ on billboards and backs of cars /truth without context, my favorite of all crimes.")
Though his words seem razor-sharp and are ostensibly directed at the greater evangelical community, somehow Webb does not come across as preachy or "holier than thou." Maybe it's because, in addition to targeting himself, Webb's message is embedded in a calm sound scape that floats from ethereal to smooth jazz to rootsy folk-rock — all without sounding incongruent. In the end, the listener comes away feeling spiritually culpable yet sonically satisfied.

© 2004 CCM Magazine. All rights reserved. Used with permission. Click here to subscribe.

See all the latest Derek Webb music videos at Godtube.com!