Pretty & The Plain Full of Old Soul Flavor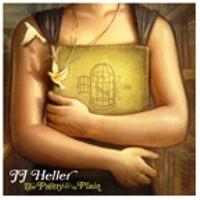 Artist: JJ Heller
Title: The Pretty & the Plain
Label: Stone Table Records
JJ Heller made a pretty big splash in the indie pool with her 2006 debut Only Love Remains, and she immediately put her burgeoning fame to good use, ministering to hurting women in the chapel services at Remuda Ranch in Arizona. The Pretty & The Plain, soul-stirring and full of heart, should only increase her opportunities. Heller's music has an intriguing quality of the past to it, an old soul flavor, more prominent in this sophomore offering.
The whimsical "Grow" opens the 12-track disc, its Beatlesque melody line perfect for Heller's lilting vocals. Warm background vocals add to its uplifting vibe. I loved the organic, bouncy "Fly Away," cleverly reminiscent of the classic hymn. Once again, Heller has the support of the best studio players available, Andrew Osenga's sturdy 12-string here the perfect anchor for her ethereal vocals. The Nashville A-team has much to do with the sparkling embellishments of "Small," but Heller's articulate, potent songwriting skills shine through just as strongly on this track and every other. David Henry's mournful cello plays beautifully against her yearning vocals on the understated "When You Come Back."
The album's themes cover issues both spiritual and emotional, including two of the year's best love songs, "Where I Land," a delicate sparkler, and the nuanced and romantic "Tonight," the perfect wedding night song. Interestingly, "Why Is It Colder?" is a song of the unloved, with a stirring chorus.
Heller knows her way around a song. I found the clever "You Tell Me So," lovely and twangy, to be irresistibly warm, and her intelligent musicianship shows through the lovingly rendered "Have Mercy." This track, put forth with great care and sensitive nuance, stands out as well for its gutsy vulnerability. Electric guitars add an edge to the closer, a reprise of "When You Come Back," bringing the engaging collection to the end you hate to see coming. Pick up Heller's The Pretty & The Plain at her website store, and they'll throw in her new, eclectic Christmas EP for good measure, the operative word here being "good." Very, very good.



© 2007 CMCentral.com. All rights reserved. Used with permission.



Visit CMCentral.com now and join the single largest online community of Christian music fans on the internet. CMCentral features daily music news, exclusive interviews, album reviews, weekly devotions and feature articles written by some of your favorite Christian artists, and much more. CMCentral is also the home of the most popular Forum for Christian music fans that you'll find anywhere on the Internet. Come see what all the buzz is about!
Check out JJ Heller music videos at Godtube.com!