Project 86 Opts for Slower, Doomy Hook on "Follow"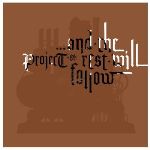 Artist: Project 86
Title: "And the Rest Will Follow"
Label: Tooth & Nail
Project 86 is a hard band you can count on to consistently bring the rock. Andrew Schwab's thousand-mile glare makes him a towering, intimidating front man – and guitarist Randy Torres knows how to dial in that crunch guitarists drool over at Ozzfest and then rush home to their guitar magazines to try to figure out.
In a live setting, P86 always scores a technical knockout. While the band's major label departure, "Truthless Heroes," gave some fans concern, each studio album has successfully become an audio companion to all the tough guy rockers smart enough to listen.
Unlike the fast and staccato vocal riffing of the band's single "The Spy Hunter" (from "Songs to Burn Your Bridges By"), the tunes on "And the Rest Will Follow" often opt for a slower, almost doomy hook.
The rhythm section of bassist Steven Dail, drummer Alex Albert and guitarist Torres predominantly stakes its claim in the low-end of the sonic spectrum, striking out with a deadly chorus such as in "Subject to Change," where Schwab's desperate cries of "Return, return, return!" sound all the more urgent because of the pendulum-swinging song dynamics. This effect is strengthened by a quick rest and a "hollow room" vocal call-back that makes for an aural slap in the face. Immediately after the chorus, whispery background vocals describe someone who "… once was transformed now exactly the same …" and you want to lean in to hear.
It's these lyrical tidbits that add more depth to Project 86. The author of a few books, including "It's All Downhill From Here" (Relevant), Schwab deftly expresses the struggle of humanity and points toward heaven with thoughtful questions. Songs such as the anthemic "My Will Be a Dead Man" give both the believer and agnostic alike something to chew on.

© 2005 CCM Magazine. All rights reserved. Used with permission. Click here to subscribe.




Check out Project 86 music videos at Godtube.com.