"Purified" Succeeds Thanks to Fine Songs, Solid Vocals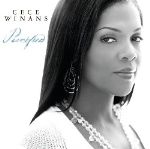 Artist:  CeCe Winans
Title:  "Purified"
Label:  PureSprings Gospel/INO
First the bad news about the latest from six-time GRAMMY winner CeCe Winans:  There are junctures where "Purified" succumbs to clichés that handcuff many an R&B album, whether it quotes A-Tisket, A-Tasket (on the otherwise sprightly "Pray"), uses "Cher effect" auto-tuned vocals ("Let Everything That Has Breath"), or teams the words "forever" and "love" with strings, swelling cymbals and overly flamboyant acoustic guitars to create a mood worthy of an umbrella-garnished drink ("I Promise").  
But when "Purified" succeeds, it does so royally and mainly on the strength of Winans' voice – as tuneful as Whitney Houston, but never as annoyingly melodramatic -- and some fine songs. By far the best is "Colorful World," with its creamy-dreamy refrain and lyrics that describe everyday outcasts in vivid detail, including the girl who "wears nose rings with weird things floating through her hair." The song preaches a tolerance message that's easy to swallow, given the joyous music that accompanies it:  "Celebrate all our differences/ Instead of building these plastic fences."
Another winner is "Momma's Kitchen," produced and co-written by Tommy Sims (of Eric Clapton "Change the World" fame). The song glides on a silky groove that is both lyrically and musically nostalgic, recalling the Philly soul glory years with its slippery electric guitar loop and unadorned vocals. Here, Winans yearns for "better days when love was for the giving."
The good and bad currents of "Purified" converge on "He's Concerned," a track that suffers for its obvious ballad elements (chimes and more strings). Yet here – as it is throughout "Purified" – Winans' heart is in the right place, as is her pretty voice, which delivers this surprising message: "He's concerned about you." We've all heard God's love, sacrifice and faithfulness preached on many a Sunday morning. But when was the last time someone reminded us of His concern? It's a personal word that caps what is, ultimately, a personal and enjoyable album. 


© 2005 CCM Magazine.  All rights reserved.  Used with permission.   Click here to subscribe.